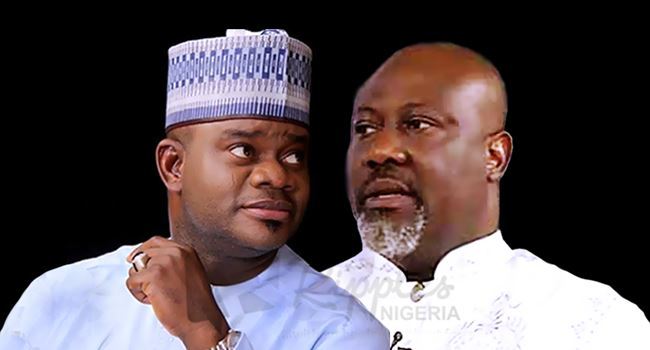 Yahaya Bello, the governor of Kogi State has stated his reasons for not being able to work with Senator Dino Melaye. Dino Melaye is the lawmaker who represents the western district of Kogi in the national assembly.  The main reason that has been given by Governor Bello for being unable to work with Dino Melaye is because of their different ideologies related to the joining of politics.
This information has been stated by Kingsley Fanwo, the Director-general of media and publicity to the governor. Kingsley Fanwo put forward this statement by Yahaya Bello, the governor of Kogi State while responding to the claims that had been put forward by the Senator who had challenged Yahaya Bello to send an invitation to President Muhammadu Buhari inviting him to the state of Kogi to commission certain projects.
Another statement given by Kingsley Fanwo stated that while Governor Yahaya Bello had joined politics to bring new parameters of developments in the state, Dino Melaye's intention for joining politics was to profit from the government projects and blackmail others. This statement shows that there is a sharp difference of ideologies that exists between Governor Yahaya Bello and Dino Melaye that is making it difficult for the two of them to work together.
It even has been reported that Governor Yahaya Bello has appealed to Dino Melaye not to put the state in a situation of crisis through his governorship ambitions. Governor Yahaya Bello has even further stated that Dino Melaye should give his full dedication to the campaigning for being the governor and try his best not to put the state under challenging situations.
In the light of these situations, Governor Yahaya Bello is quite concerned about the security of the citizens which could get hampered because of the crisis.