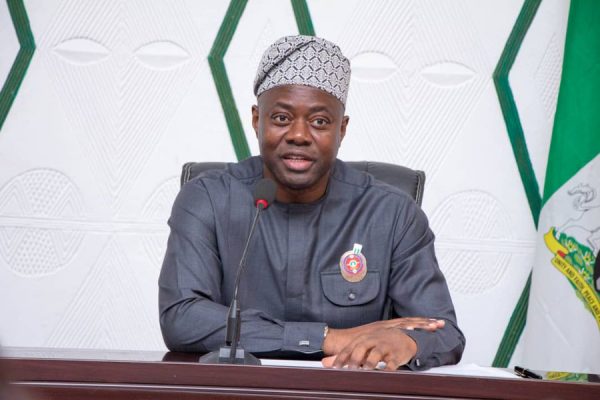 As the cure for Coronavirus has not been found, Governor Seyi Makinde of Oyo State has said he is ready to donate his blood sample to medical researchers for coronavirus cure trial.
POLITICS NIGERIA reports that the governor had said the dreaded disease can be cured with local herbs if the right environment is provided.
Makinde also noted that there are local solutions to boost the immune system against COVID-19 and the state is looking for a local solution to cure COVID-19.
He added that he recovered from COVID-19 with the help of honey, Vitamin C and blackseed oil after an official in charge of the primary healthcare system in the state recommended it to him.
Makinde had said: "My very good friend and brother, Dr Muyideen Olatunji, is the one in charge of the primary healthcare for Oyo State.
"He came to me and said, look, I am going to send to you this black seed oil, it boosts immunity. So, I mixed it with honey and took one teaspoon in the morning and one in the evening.
"So, there are local solutions to boost immunity. Our people should not fret. Just as I've been able to get the virus out of my system, so will it be for majority of our people."
However, in a tweet on Wednesday, the governor said he will give his blood sample to experts researching on post-infection protection against Coronavirus in Nigeria.
He said, "We have been advocating for local solution to the COVID-19 pandemic in Oyo State.
"So, as a COVID-19 survivor, I volunteered to donate my blood to be studied by our experts researching on the Evaluation of Post Infection Protection against SARS-COV-2 (COVID-19) in Nigeria."
We have been advocating for local solutions to the COVID-19 pandemic in Oyo State. So, as a COVID-19 survivor, I volunteered to donate my blood to be studied by our experts researching on the "Evaluation of Post Infection Protection Against SARS-COV-2 (COVID-19) in Nigeria." pic.twitter.com/DauVcB8lLk

— Seyi Makinde (@seyiamakinde) April 15, 2020