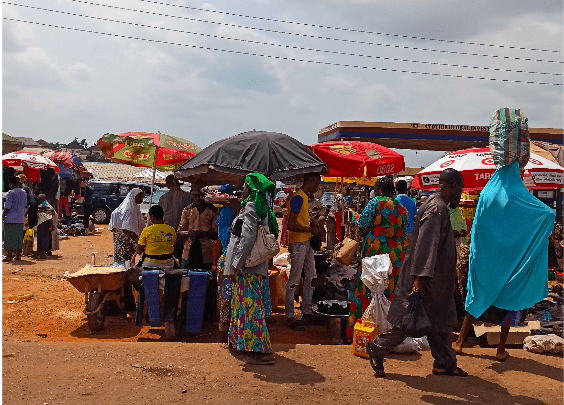 ActionAid Nigeria and the Small-Scale Women Farmers Organisation in Nigeria (SWOFON) have chronicled the implications of the coronavirus pandemic on the agricultural sector.
.Experts in the sector, including the Food and Agriculture Organisation, have predicted a looming food crisis in the African continent as the pandemic ravages the world.
More so, in the past years, Nigeria's food crisis had assumed a frightening dimension, blaming the development largely on poor policies of successive administrations in the country, a report from World Bank read.
Meanwhile, in a joint virtual press conference of Sunday, the Country Director of ActionAid Nigeria, Mrs. Ene Obi, and the President of SWOFON, Mrs. Mary Afan, spoke on the implications of the pandemic on Food and Agriculture, Smallholder Women Farmers and averting the looming food crisis in Nigeria.
While commending the Federal and State Governments, and all stakeholders for their unrelenting efforts towards containing the pandemic, the groups noted that farmers are experiencing massive post-harvest losses on fruits, vegetables, fresh products, and other perishables.
"Smallholder Women Farmers are unable to move their products from their farms to the market or from their rural communities to semi-urban and urban markets."
According to the group, farmers are losing income from staple food like Maize, Rice, Wheat, Potatoes, Cassava, Soybeans, Yams, Sorghum, and Plantain while those engaged in livestock farming especially poultry, are faced with a lack of access to poultry feeds they usually buy.
"Fisheries and aquaculture Farmers are also affected by the closure or low patronage of hotels and skeletal operations of restaurants," the statement obtained by POLITICS NIGERIA read.
There is a food price crisis across the country, the poor and vulnerable are facing hunger and malnutrition, and this includes our smallholder women farmers, the groups stated.
They also explained that the security agencies and task forces enforcing the lockdown in the States, at the local government and community levels are incessantly harassing and extorting smallholder Farmers, especially women.
Meanwhile, they urged the Federal Government to announce clear policy interventions during this pandemic to ensure that there is sustained local food production and supply.
"Special community local produce buying, and transportation should be arranged to buy produce from smallholder women farmers to ensure food supply is maintained.
"Smallholder farmers especially women should be exempted from the movement restrictions while observing precautionary measures so that they can go to their farms for work and transport their produce to the market.
"Agricultural extension agents should be exempted from the movement restrictions, so they can provide extension services support to the farmers while maintaining physical distancing and other precautionary measures," the groups recommended.
Nonetheless, they begged that special palliatives should be targeted at smallholder farmers and that smallholder women farmers should be provided with agricultural insurance services.A
AN, in recent research, indicated that the impact of Government Agricultural Insurance (GAI) provision over the years to women farmers was very poor in Nigeria.
"Social protection (unconditional or conditional cash transfers) must be provided to farmers and farm workers who are forced to leave their fields and are not able to take their goods to the market, invariably affecting their immediate household income and their investment in next season's harvest.
"Grants, credit, essential inputs, early maturing livestock, improved seeds and seedlings, and fertilizers preferably organic, should be provided for smallholder farmers especially women to avert the looming food crisis," the statement read further.