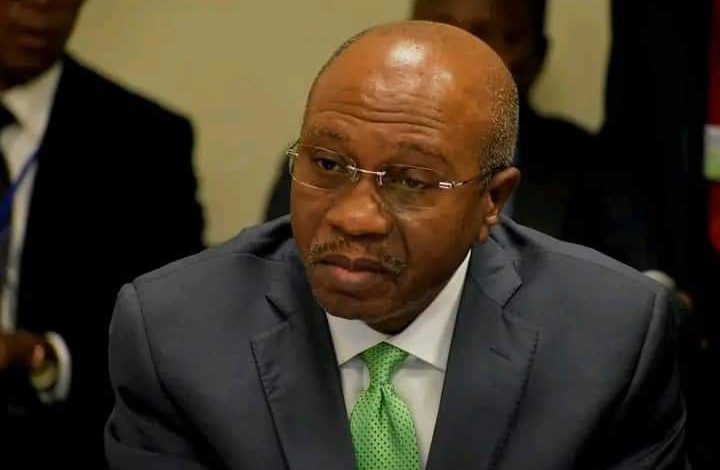 Rumours emerged on Wednesday morning that Godwin Emefiele, the Governor of the Central Bank of Nigeria (CBN), has been sacked by President Muhammadu Buhari. No reason was given for the purported sack.
POLITICS NIGERIA reports that the speculation was promoted only on social media, with many commenters already hailing the supposed decision by the President.
But an impeccable source within the nation's apex bank has debunked the rumour in its entirety. He categorically said it is fake news.
In a similar vein, prominent socio-political activist, Deji Adeyanju, wrote on his verified Facebook page: "The news of sacking of Emefiele is fake. President has not sacked him."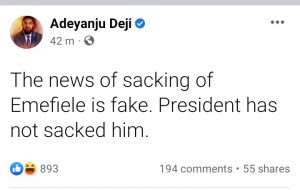 On Monday, Delta-born Emefiele withdrew the suit he filed against the Independent National Electoral Commission (INEC) and the Attorney-General of the Federation (AGF), Abubakar Malami, over his presidential ambition. Thus, he backed down on his aspiration to succeed President Buhari in 2023.
He had approached the court with an ex-parte motion, seeking the court's interpretation as to whether he could run for the 2023 presidential primary while he holds as governor of CBN.
Snapshot of Emefiele
Godwin Emefiele is a Nigerian economist who has been serving as the Governor of the Central Bank of Nigeria since June 4, 2014. Born on August 4, 1961 in Lagos State, Nigeria, Emefiele is originally from Ika South, Agbor region of Delta State.
Emefiele has been governor of the CBN since 2014 (before the emergence of the Buhari administration). During his first term, he supervised an interventionist currency policy at the behest of the presidency, propping up the Nigerian Naira by pumping billions of dollars into the foreign exchange market. He also introduced a multiple exchange rate regime to try to mask pressure on the Naira and avoid a series of devaluations.
In 2019, Nigeria's Senate approved a second five-year term for Emefiele. This is the first time that anyone will serve for a second term since Nigeria's return to democracy in 1999. Senator Bukola Saraki read President Buhari's letter on Thursday, May 9, 2019. He was screened on Wednesday and his confirmation came on Thursday, May 16, 2019.