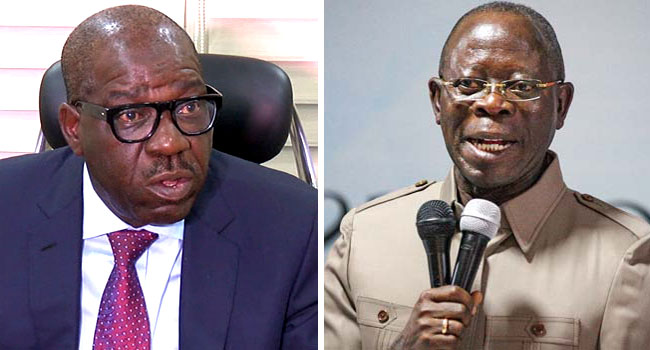 The Governor of Edo State, Godwin Obaseki, has accused former National Chairman of the All Progressives Congress, APC, Adams Oshiomhole, of rendering 12 State House of Assembly members-elect jobless.
Obaseki made this known at a rally in Adolor Ward 4 in Ovia North East Local Government Area of the State on Wednesday. The governor said his predecessor deceived the members-elect not to present themselves for the inauguration of the 7th Assembly.
He added that Oshiomhole also deceived two others members whose seats had been declared vacant thereby denying the representation of their constituents.
Governor Obaseki noted that the members-elect have have betrayed their constituents after the House was proclaimed on June 17, 2019 by not showing up for swearing-in. He added that they failed to do necessary documentation as part of the conditions for their inauguration as members of the Assembly.
Obaseki said: "The godfather is deceptive. He deceived the 14-Lawmakers-elect and today, they do not have jobs.
"They know that they cannot win the election. They are relying on violence. We will not allow them".