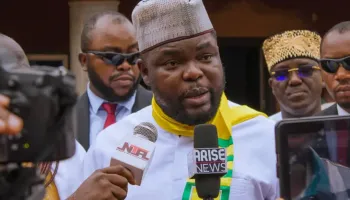 Mr Peter Obi was thought to be the most viable alternative. After years of enduring inept leadership at all levels of governance, Nigerians recently did not need much promptings to jump on the bandwagon of the former Anambra State governor's campaign trail now been touted by analysts as a movement.
Apparently, his handlers and publicists had done a good job in portraying him as the 'messiah' in a country where good and transparent leadership has been as scarce as water in the desert!
Obi himself liked the new attention he was getting after dumping former party, the People's Democratic Party (PDP) on the eve of their primaries to join the Labour Party which before then was an unknown quantity in the country's political space.
In the days since he joined the Labour Party and started mobilising Nigerians to key into his ideology which centres around cleaning the Augean stables of the country's dark past, he had perfected a strategy of not only making sweeping condemnations of past governments, but relied on a style of reeling out unrealistic figures and statistics to back up whatever claims he made, especially during press interviews and conferences.
Well, he seemed to ride on the current wave of disenchantment with the system and made sure he pressed home his advantage at every given opportunity.
And, as is usually the case with blind admiration and optimism for someone or something, not many of his followers who pride themselves as 'Obi-dients' had been diligent to examine the facts, at least for the purpose of authenticating them, or countering them.
Rather, they are the ones who usually get hot under the collar, threatening fire and brimstone if they sense someone airing views contrary to the ones they hold on the Labour Party candidate.
The social media space has, in recent months, been turned into a battleground of sorts as his followers who are mostly young people become more and more touchy with the use of harsh words and even threats to silence anyone who oppose their beloved candidate.
ENTER PROF. CHRISTOPHER IMUMOLEN
Then came the recent Institute of Chartered Accountants of Nigeria (ICAN) conference in Lagos where provision was made to host some of the presidential candidates to a debate.
Peter Obi and a few other presidential candidates like Professor Christopher Imumolen (Accord), Omoyele Sowore (AAC), Dr. Ifeanyi Okowa, vice-presidential candidate of the PDP, Professor Peter Umeadi (APGA), and Bishop Isaac Idahosa, NNPP's vice-presidential candidate had all had the opportunity to present and defend their party's manifestos.
Obi's entry into the venue had been accompanied by a thunderous applause as the audience, made up mostly of financial experts, looked forward to an entertaining and engaging session from some of the men seeking to replace Muhammadu Buhari as president come 2023.
As usual, Obi tried to impress with his style of hitting past rulers and gorging out highfalutin figures and statistics to buttress his points when he climbed the rostrum to speak.
He went on and on about how he planned to turn the economy around, using agriculture as his main tool.
He was soon done. And left. Other speakers came in to do their bit and also left.
Then, it was the turn for Professor Christopher Imumolen to take the microphone. The Accord party presidential candidate left no one in doubt as to the fact that he knew his onions.
In a very well articulated presentation, the renowned academic punctured several holes in Obi's economic plan, saying it was hollow and unrealistic in a country that was in a hurry to bounce back to reckoning.
He then went on to offer his own solutions which the highly enlightened audience agreed was a better economic plan. Their unreserved positive response to the young professor's renditions attested to that fact!
"I would rather emphasise on human capacity development, technology, creating enabling business policies that would encourage foreign direct investment in our economy, power and infrastructural development as well as ensuring the security of everyone both of Nigerians and visitors coming into Nigeria," Professor Imumolen had countered Obi while presenting his own economic plan.
"These are the things I would do, rather than concentrating only on agriculture if elected as president of the Federal Republic of Nigeria come 2023," he said.
REACTIONS
That encounter between the Accord presidential candidate and Peter Obi hasn't gone without eliciting reactions in many quarters as more and more questions are now being asked about the former governor's much vaunted wizardry in administrative and economic matters.
The wool appears to have been pulled off the eyes of some of his more astute followers who are beginning to ask some salient questions.
It is this newfound awareness — the general inquisitiveness — to unravel the true essence of the man, Obi that appears to be causing some tension among his followers.
An impartial observer only needs to read a report titled, "Obi-dients criticise Aisha Yesufu, Rinu for questioning Peter Obi," published in the Vanguard on Saturday, October 15, 2022 to understand the animosity now brewing in the camp of the 'Obi-dients'.
Obi's supporters had viciously exchanged verbal blows following a question asked by Rinu Oduola on twitter and seconded by Aisha Yesufu, a member of the Obi Campaign Council.
Rinu on her verified Twitter page @Savvy Rinu asked how Peter Obi intended to tackle the issue of police brutality if he became president.
The tweet had hardly trended minutes before Rinu also an 'Obi-dient', got hammered for asking what most of her traducers termed "ridiculous!"
Aisha Yesufu wasn't also spared for supporting Rinu with her comment, "It is," on her own page.
A respondent @xaxablanca was so irritated by the post that he suggested Aisha's removal from Obi's campaign council.
"@Aisha Yesufu needs to be removed from the PCC so (she) can face her activism and hold every candidate accountable.
"She cannot represent the ObiDatti movement if she is asking such questions that have answers already," he blasted.
Another supporter @Nkanchor_ described Rinu and Aisha's actions as ridiculous.
"Rinu and Aisha saying PO must answer questions about police brutality (which he has already answered) is ridiculous.
"@Aisha Yesufu is even on Peter Obi's campaign list. If you do not believe in his ability to tackle these issues, what convinced you to support him?" he asked.
A few supporters had however differed, saying they found nothing wrong with both of the Obi-dients asking what they saw as harmless questions.
The watching public are, however, not fooled as they see the usually unprovoked reactions of the 'Obi-dients' as an attempt to stop genuine questions being asked about the man being highly hyped as one who apparently has all the answers to Nigeria's problems.
Some observers had also once pointed to Obi's manifest hollowness during a recent interview with America-based, Cable News Network (CNN) where he failed to give convincing answers to how he planned to solve Nigeria's many challenges and return her to the path of sustainable economic growth and development.