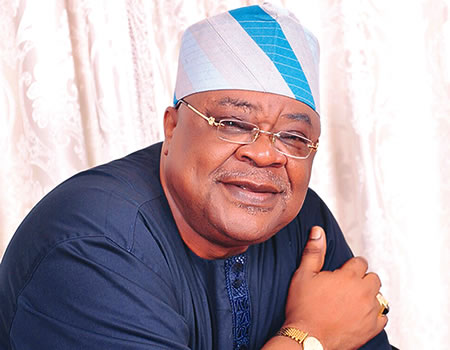 Former governor of Oyo State, Otunba Adebayo Alao-Akala has said he did not join the All Progressives Congress (APC) because of his case with the Economic and Financial Crimes Commission (EFCC).
Alao-Akala is standing trial along with his then Commissioner for Local Government and Chieftaincy Matters, Hosea Agboola, and an Ibadan-based businessman, Femi Babalola for an 11-count charge preferred against them by the EFCC.
The charge against them bordered on "conspiracy, awarding contract without budgetary provision, obtaining by false pretence, acquiring property with money derived from an illegal act and concealing the ownership of such property".
Alao-Akala is alleged to have awarded a road contract worth about N8.5 billion between 2007 and 2009 without budgetary provision, to Pentagon Engineering Services, a company traced to Babalola.
The said contract was executed on behalf of the 33 local governments in the state. Alao-Akala was alleged to have ordered for the supply of drilling machines worth about N3.5 billion on behalf of the local governments.
He was also alleged of conspiring with Agboola to withdraw N2.9 billion from the Oyo State Local Government Joint Account, and for illegally acquiring some property on Old Bodija road, off Rotimi Williams road, when he was in office.
Speaking to reporters in Ibadan on Friday, Alao-Akala denied all the charges leveled against him by the anti-graft agency. He added that his case with the EFCC is not about any political witch-hunt.
The APC chieftain noted that he has not approached any APC member to help him with his case, saying that he joined the APC because of the popularity of the party.
He accused the EFCC of charging him wrongly, adding that the anti-graft agency is wasting its time pursuing a case against him.
The former governor lamented that the offences leveled against him are not connected with embezzlement.