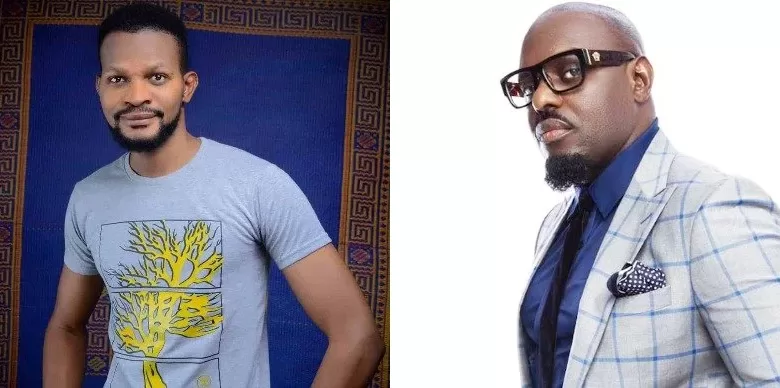 Veteran Nollywood actor, Jim Iyke says he is now cool with colleague, Uche Maduagwu whom he beat not long ago for questioning his source of wealth.
Maduagwu had taken to social media to call out Iyke on grounds that he lives an expensive lifestyle in Lagos.
Questioning Iyke's source of wealth, Maduagwu stated that he heard the fellow actor doesn't buy expensive clothes in Nigeria but has them imported from abroad. But now, Iyke says the duo have cleared any animosity between them.
"The thing is, I was about 21 when I entered the movie industry, and for 15 years, I have been hustling back-to-back. I am the same person who shot almost 38 films in one year — nobody has tried it. The only thing I have always known is work, and then at some point, someone will question where my comfort comes from. Imagine? And the time he (Maduagwu) said those words about me, I have a film I invested 100 million naira in. Does he want to kill my project before I make my returns?" Iyke said to BBC News Pidgin in a recent interview.
"So I said let me go and meet him and have a gentleman's conversation with him. But he resorted to shouting, and I said 'okay'. My intention was to have a conversation with him on the reason about his statements, and how it wouldn't repeat itself.
"But the part the press don't like to follow is the thing that happened after the disagreement. Because me and him sat down. The guy is also a very intelligent person. He knows what he's doing and is very deliberate about it. So we sat down, talked and even drink together. We popped wine that day; we drank; we shook hands. I told him, 'my brother, desist from this kind of action. You are Igbo, I am Igbo too. We suppose to be lifting each other'.
"That's how this thing happened. It is one side everybody saw, but there are always two sides to every coin."