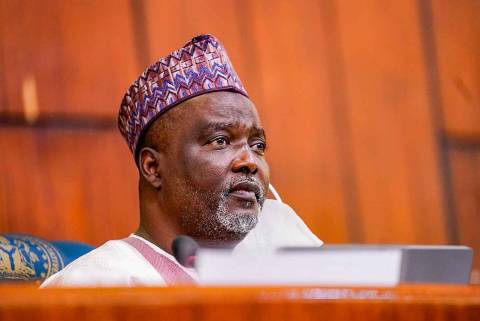 Deputy Speaker of the House of Representatives, Idris Ahmed Wase, has made it clear that he will not withdraw from the race for the speakership of the House of Representatives in the 10th National Assembly.

POLITICS NIGERIA reports that the ruling All Progressives Congress (APC) has designated the position to the North West geopolitical zone and the deputy position to the Southeast.

Following a meeting with President Muhammadu Buhari at the Presidential Villa in Abuja, Wase spoke to State House correspondents and stated that zoning was not recognised in the constitution.

He also argued that the zoning arrangement made by the APC did not adhere to the principle of federal character as stated in the Constitution.

Wase pointed out that the National Working Committee (NWC) letter, which outlined the zoning as advisory, also allowed for ongoing discussions on the matter.

"I am in the race, and with the grace of God, I will complete the race. I have not withdrawn or stepped down for anyone," Wase asserted.

He cited Section 14(4) of the Nigerian Constitution, which states that the composition of the Government of the Federation and its agencies should reflect the federal character of Nigeria.

According to Wase, this provision aims to promote national unity, prevent the dominance of individuals from specific states or ethnic groups, and ensure loyalty and harmony in the nation.

Underlining the importance of diverse leadership, Wase emphasised that Nigeria has six geopolitical zones, and the government currently consists of six presiding officers.

He argued that disregarding the deputy speaker position for his zone would not only go against the constitutional principle of Federal Character but also ignore the significant support and votes his region has contributed to the government.

"I am not only speaking for myself," Wase said.

"You can't bring a deputy senate president, but you can give us the deputy speaker role. You cannot neglect us, even though we have provided one of the best outcomes in terms of voting and support to the government," he stated.