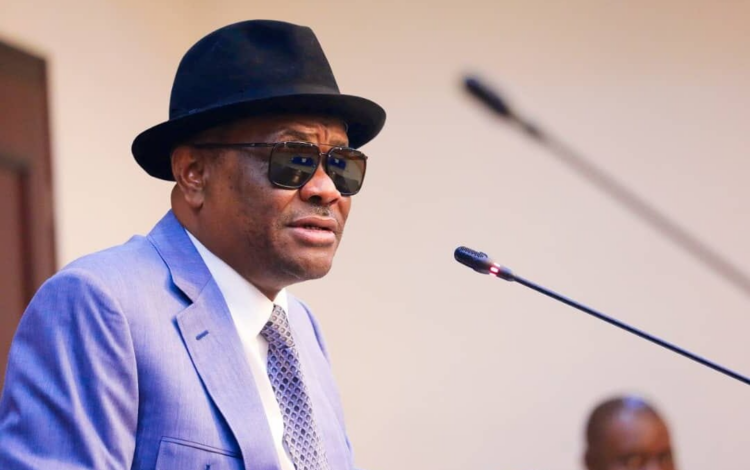 FCT minister, Nyesom Wike, has expressed displeasure over the negotiations by Bala Mohammed for the Wasa Affordable Housing Project.
According to Wike, the project was poorly negotiated by his Mohammed during his time as FCT minister.
Wike disclosed this when he led the Minister of State for FCT, Dr. Mariya Mahmoud and other government officials to visit the road construction site for the housing estate on Monday.
Earlier, the acting Coordinator, Satellite Town Development Department, Mr. Olusegun Olusan, explained that the contract for the provision of the infrastructure was awarded in 2014, at the tune of N26bn but was revised to N85bn in 2018.
Olusan told the minister that so far, a total of N21bn had been paid to the contractor with a balance of N64bn left, adding that the percentage of work done so far is 21.4 per cent.
On the housing scheme, the coordinator explained that the government's role was to provide the land and infrastructure, while private developers would build houses and sell to the masses at affordable rates.
He added that at the conception of the project, a two-bedroom flat was to be sold to the masses at N7m.
However, the minister was not impressed with the arrangement made by the FCT, stressing that the government should not spend N85bn to provide infrastructure and land, and benefit nothing.
"We are not impressed with the arrangement made by the FCT. The government cannot just cough out N85bn to provide infrastructure and then give the land out to private developers who will build and sell," Wike said.
"This kind of arrangement is not commendable at all,  at all. We think that the government must also participate, having provided the land and infrastructure.
"If we are partnering with private individuals or developers, the common sense is that you provide the land, provide infrastructure and they come and develop.
"Then government, for example, can take 10 per cent, then the developers can take 90 per cent, depending on the value," he said.
Wike said that under such arrangements, the government should be able to determine the price at which the houses can be sold to the masses, saying that the masses cannot afford N7m for a house.
The FCT minister said the project would be revisited for proper planning, in such a way that the government would benefit from the project and ensure that the masses, whom the houses were being built for can afford it.
On the project being delayed for so long, Wike said that FCT would not be awarding contracts indiscriminately.
"We will award contact that we know we will finish before embarking on another contract.
"Every contract is abandoned because there is no money. So, we are going to look at everything," the minister added.