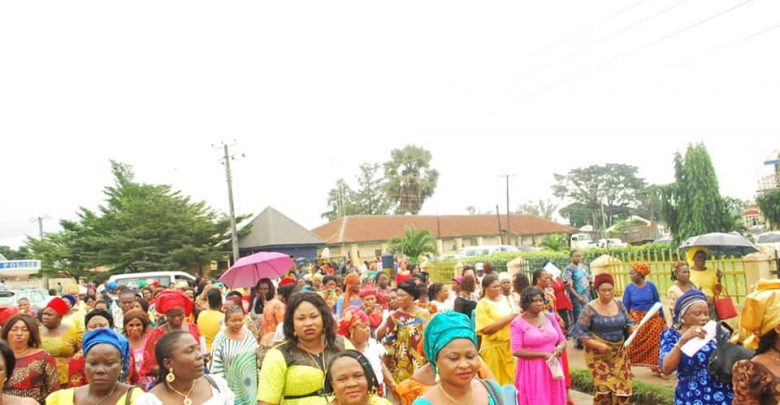 The National Council of Nigerian Women in conjunction with other NGO's and other Women right protection agencies today carried out a peaceful demostration on Imo State.
This is against the repeated cases of harassments, molestations and violence against Women in Imo State by Imo State Government under Emeka Ihedioha.
According to them, the slapping of Mrs Uloma Nwosu, a business woman from Imo State and the first daughter of the immediate past Executive Governor of Imo State and a serving Senator, Owelle Anayo Rochas Okorocha is totally condemnable.
The Angry Women called on Governor Emeka Ihedioha to tell the world the reasons why he can't be called a Woman beater Governor who has no respect or regard for Women.
According to them, Imo women should not be punished and harrassed for voting the candidiate of their choice.
The women called on Hon. Emeka Ihedioha to stop the barbaric act on Women, no matter the disguise reminding him that he was born by a woman.
They wondered how his wife and daughter has been faring since he has shown the unrepentant disrespect and disregard to womenhood.
The Women informed that the way the present Government of Imo State is going after Women in politics is signalling that Women are not safe under this present administration which is against the Beinji Women Conference.
The visibly angry women informed that Aba Women Riot was caused by trodden down of Women and their rights in an environment that they are stakeholders.
They called on all International Bodies protecting the rights of Women, the Federal Government of Nigeria under President Mohammed Buhari, The Ministry of Women affairs and other relevant bodies to come to the Rescue of the Women from the incessant attacks by Government of Imo State under Emeka Ihedioha.