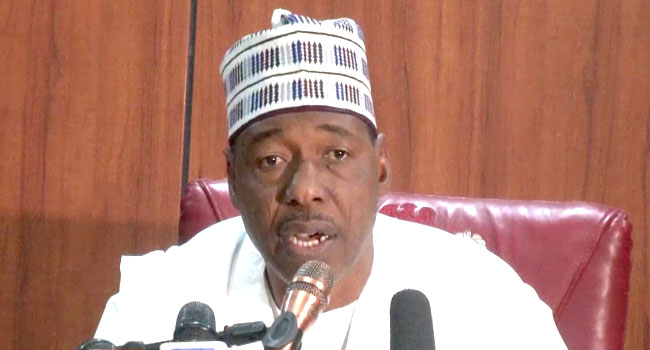 Governor Babagama Umara Zulum of Borno state Thursday announced the dissolution of his State Executive Council (SEC).
Those affected are aides, chairmen of boards, parastatals and agencies except those chairmen under conditional mandate or provisions.
He directed all the commissioners and chairmen of agencies to hand over to permanent secretaries of ministries, departments and agencies latest by tomorrow, Friday unfailingly.
Governor Zulum, made this known immediately after combined extra ordinary State Executive Council meeting and valedictory session Thursday with the outgoing commissioners at the Government House council chambers, Maiduguri.
He thanked all the SEC members for their support, cooperation, loyalty and service to the people and government of Borno state during his first tenure.
Zulum appreciated the media for their objective reportage and coverage of the state government activities.
He also appreciated role the media played in the post insurgency and recovery process towards restoration of peace and rebuilding process.
He further solicited for continuous support and cooperation of the media while reassuring the media of his administration perpetual support and synergy with the media.
The governor however pledged to be available and supportive to all his outgoing SEC members at all time while maintaining that his doors are open always and will never relent on efforts to establish contacts with all in the future.
He commended all the SEC members for their individual contributions and supports to the actualization of his 9-point agenda, vision and mission while appreciating all the encomiums on him by the outgoing SEC members during his first term in office.