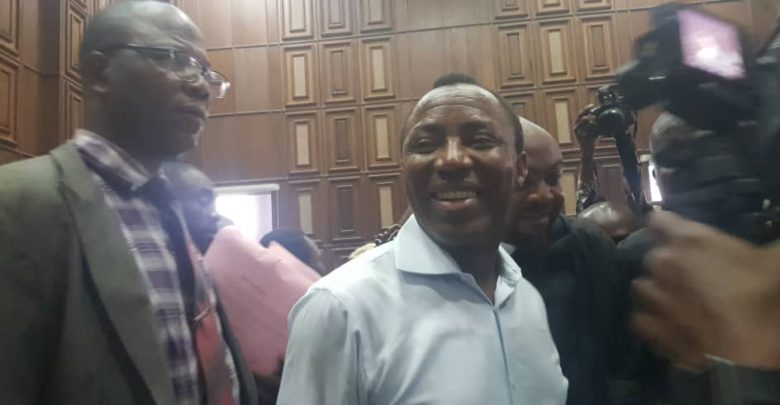 A presidential candidate in the 2019 general elections in Nigeria, Omoyele Sowore, on Saturday posited that the Independent National Electoral Commission (INEC) has 'officially bungled the Anambra gubernatorial election'.
Sowore took this position via his verified Twitter handle. He gave no cogent reason for his submission though.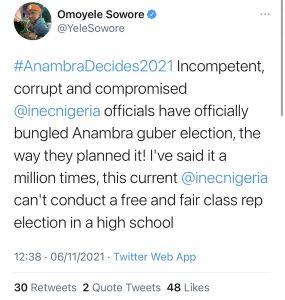 "#AnambraDecides2021 Incompetent, corrupt and compromised @inecnigeria officials have officially bungled Anambra guber election, the way they planned it! I've said it a million times, this current @inecnigeria can't conduct a free and fair class rep election in a high school," Sowore wrote.
Voting is ongoing in polling units across Anambra State as of the time of publishing this report — although voters' turnout is low.
POLITICS NIGERIA reports that INEC said it will upload election results from the 5,634 polling units to its result-viewing portal in today's governorship poll in Anambra State.
It however said collation of results would be done manually as obtained in previous elections and not with the uploaded results.
The commission expressed confidence that the technological approach, designed to enhance transparency in the election management process, would boost people's confidence in elections and enable Nigerians to view polling unit results in real time as voting ends.
The innovation, introduced in August 2020, was first used by the electoral body in the August 8, 2020 Nasarawa Central State Constituency bye-election and was later deployed in the Edo and Ondo states governorship elections held on September 19 and October 10, 2020, respectively.