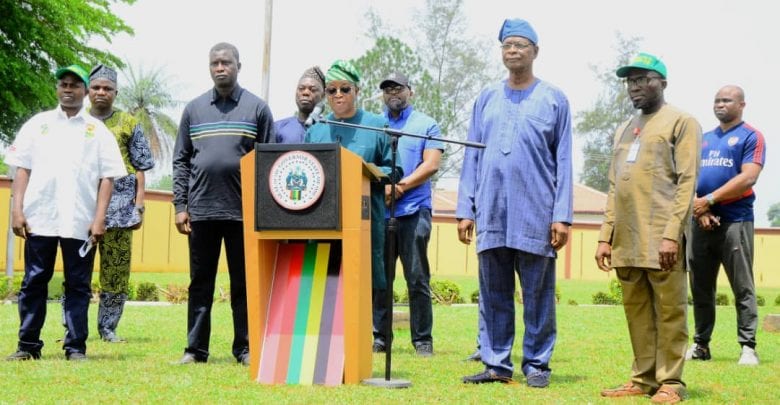 The Governor of Osun State, Gboyega Oyetola, on Tuesday inaugurated the Osun Community Policing Advisory Committee to strengthen security at local areas within the State.
The community police is the Amotekun Security Operatives and the inauguration of the Committee was done at the Multipurpose Hall of the Local Government Service Commission, State Government Secretariat, Osogbo.
"The Committee has different structures, including State Community Policing Committee, Area Command Policing Advisory Committee, Local Govt. Advisory Committee and Divisional Community Policing Committee, and this is to ensure that effective policing is achieved at every stratum of the community," Mr Oyetola said.
"Considering the composition of these structures which allows for the participation of leadership of the community and relevant groups such as traditional rulers, religious organizations, the civil society, Labour Unions, the youth, people living with disabilities, community leaders, educational institutions, town unions, professional unions, hoteliers, vigilance groups, hunters, farmers, herders, and socio-cultural associations, I am persuaded that the holistic structure and composition of this Community Policing Advisory Committee will serve our collective desire to be safe and secure.
"I therefore appeal to the leaderships of the various outfits not only to carry out their duties with the highest levels of professionalism and integrity but to also continue to show leadership and engage in dialogue where there are grey areas, in the public interest," the governor added.
The Speaker, Osun State House of Assembly, Timothy Owoeye, said the establishment of community policing would go a long way to bridge the gap and fill the vacuum in the security sector in the state.
The Ooni of Ife, Oba Adeyeye Enitan Ogunwusi, who was also present at the inauguration, extolled the state government for being alive to its constitutional responsibility of guaranteeing the security of lives and property of the citizenry.
He called for a collective effort in tackling the myriad of security challenges confronting the nation at large and the state in particular.