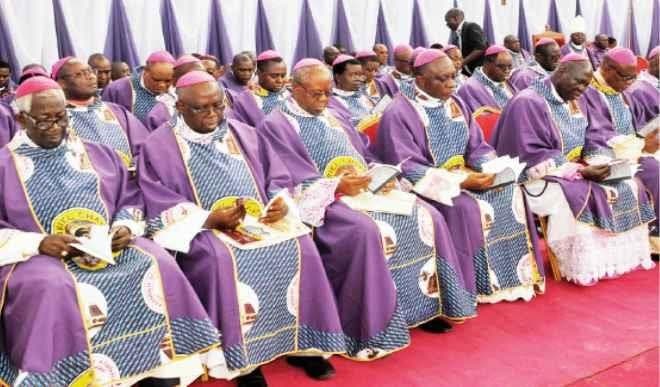 Catholic Bishops have urged Nigerians to be vigilant and be ready to defend themselves against attacks from criminals elements in the country.
The clerics gave the charge in a communiqué signed by the Chairman and Secretary, Archbishop Anthony J.V. Obinna, and Most Rev. Augustine T. Ukwuoma, and issued after the second plenary meeting of Owerri Ecclesiastical Province at Bishop's House, Okigwe, Anambra state.
According to the communique, the bishops also asked President Muhammadu Buhari to find a lasting solution to the root causes of the Boko Haram insurgency in the North-East region of the country.
The clerics said the call for the people to defend themselves is legitimate in order to protect their lives, homes, and lands, which they sais are God-given"
They also advised the governors of Imo and the Abia States, "to protect the lives of our people, their homes and their lands".
The Bishops said: "Bearing in mind that no economic or educational endeavour can thrive in a volatile and unsafe environment, the security and safety of the nation at large and Igboland in particular, deserve special attention. '
"Kidnapping, banditry, armed robbery, incessant killings, which have continued unabated, cast serious doubts on the willingness and capability of our security outfits to rise up to their constitutional responsibilities.
"Rise up in prayer to God in vigilance and in legitimate self-defence, for the right to life, to our homes and to our lands that is God-given."
Speaking on the issues related to the Coronavirus, the bishops noted that COVID-19 is real, urging all governments at all levels to rise to their responsibility of ensuring adequate provisions of basic amenities, such as running water.