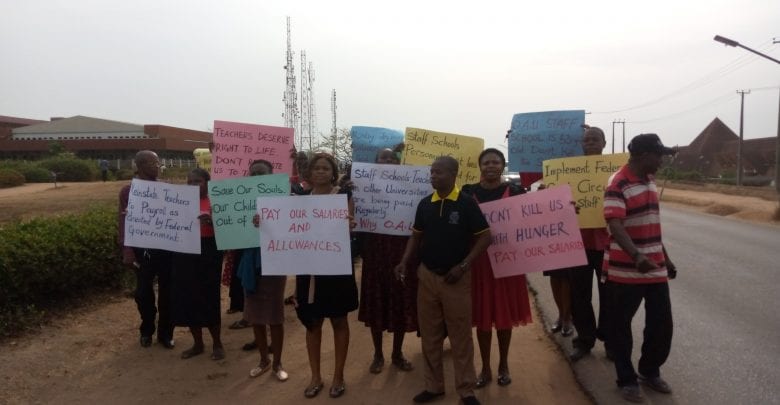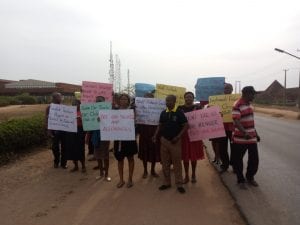 The teachers of Obafemi Awolowo University Staff School, Ile- Ife, continue to protest against the failure of the university's authority to pay them over 18 months' salaries.
They accused the university of disobeying court order and directive of the federal government which mandated their full payment and inclusion of workers of the institution's staff school in its payroll.
In this interview with POLITICS NIGERIA, Adeleye Olufemi, the head of the protesting teachers spoke on why the crisis persist since 2016
PN: Since 2016, you are always protesting against Obafemi Awolowo University management, why?
Adeleye: We are always protesting because the university management that employed us have refused to pay us. As I speak with you, OAU is owing staff school teachers 18 and half month salaries.
PN: Is it the University that has refused to pay you or the federal government?
Adeleye: In January 2016, the university removed our names from its payroll following the circular they claim to have got from the Federal Government. That caused a lot of tussle between the Senior Staff Association of Nigeria Universities (SSANU) and Federal Government. As a result of that, Federal Government itself dragged SSANU to court but eventually in December 5 2016, the Industrial court gave verdict that staff school teachers are employees of the federal government and as such should be paid by the Federal Government and added back to the university payroll.
While other universities complied, OAU has failed to obey the court verdict. In fact, in Federal University of Technology, Akure (FUTA) and University of Olorun where teachers were sacked in January 2016, they recalled them back.
Here in OAU, we weren't sacked but the university has failed to do the needful as ordered by the court and Federal Government. We were not paid. The government even said OAU should get our arrears for us but this school has failed to do that.
PN: Do you mean you've been working for free since then?
Adeleye: We have been working without salaries and now we are tired. We lost one of us in 2018 November when he felt ill but could not get money to take care of himself.
PN: Are saying the university killed him or contributed to his death?
Adeleye: Yes, the university did because they did not pay us and S. O. Oloyede died because he could not pay hospital bills. He's wife was giving him concortion at home and he died.
PN: What is the next step?
Adeleye: We must continue to demand justice and make sure Federal Government intervene in the matter.