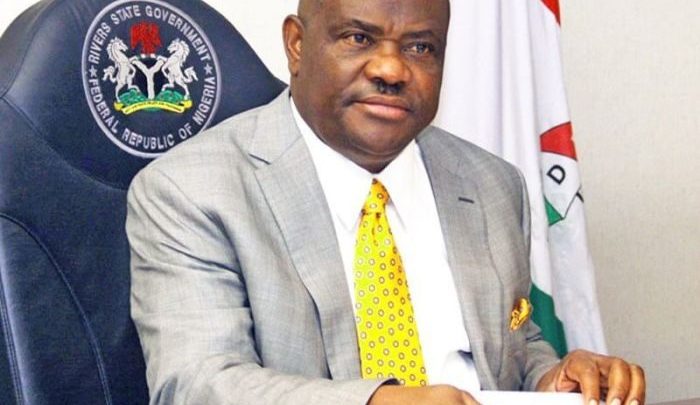 The Governor of Rivers state, Nyesom Ezebunwo Wike, has denied any link to the Igbos, one of the major ethnic groups in the state.
Wike, in a recent interview disclosed that he belongs to the Ikwerre ethnic group from Rumuepirikom in Obio-Akpor area of the state. In reaction to the wanton killings of security operatives in the state allegedly perpetrated by members of the Indigenous Peoples Organisations of Biafra (IPOB), a secessionist group, Mr. Wike proscribed the group's activities in the state.
However, the World Igbo Congress (WIC) and some other groups condemned the governor for issuing an executive order that allegedly instigated mass killing of people from the ethnic nationality in Oyigbo and Port Harcourt areas of Rivers State.
The Governor has vehemently denied the allegations. Meanwhile, in an interview with veteran journalist, Dele Momodu, Wike responded to insinuations that he is of Igbo extraction.
"I'm not. You see, people must understand things. We are from the Eastern part of the country. Nobody can deny that fact. People interpret my name as 'Weekay'. It means a new born baby. They said Wike means 'a strong person'. I don't care. Assuming I'm Igbo as they said, so I should allow criminals in Igbo land to kill people. I should do that?"
"My name is Ezebuwon. Now, nobody can deny the fact of our affinity with the Igbos. Nobody can. Take for example, in the Benin,. There is "Akpata" in Edo and "Apata" in Yoruba. Are you now saying the Akpata in Edo is the same with the one in Yoruba. No! They may have a relationship but that does not mean that you are them."
"People, when they want to do something… Assuming I'm an Igbo (although no conceding), I'm now in Rivers state. So, because I'm an Igbo in Rivers state, I should allow criminals from my area – Igbo – like they say – to kill security agents. Is that what they say?"
"I'm not one politician who will change his identity. I will not change my identity. I will not! People should understand that there is a difference between the Akpata in Edo and Apata in the West. After all, there is no one that said they came (to this world) on their own."
He further stated that he has nothing against the Igbos.
"I've nothing against the Igbos. I have lived with them. They are good people. They are very entrepreneurial. But that does not mean I will change. I cannot do that." he said.