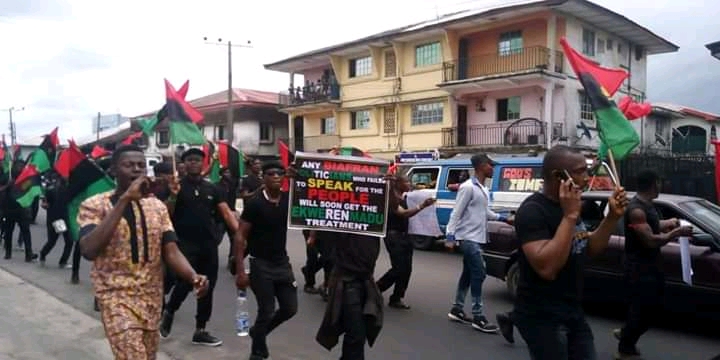 Former Deputy Speaker, Abia State House of Assembly, Dr. Cosmos Ndukwe, says the order by the outlawed Indigenous People of Biafra (IPOB) banning the Nigerian national anthem and sales of cow meat in the southeast region as from April this year, "is very disturbing".
Ndukwe advised IPOB not to embark on projects that could further jeopardize Igbo interest in the scheme of things in Nigeria. He argued that 2022 is a very important year in the political history of Nigeria, and that anything capable of truncating the efforts for South East to produce the next president of Nigeria in 2023 should be avoided.
The former Commissioner for Environment and Chief of Staff to the Governor advised IPOB to pursue the release of its leader, Nnamdi Kanu, instead of issuing orders that could hurt the struggle for its cause.
"We are still in Nigeria. You must count one before counting two. Why don't we pursue the release of Nnamdi Kanu because he is our son, and every Igbo man is concerned about his condition? Why not pursue referendum for Biafra to give people opportunity to vote Yes or No to Biafra agitation? If we stop reciting national anthem, how has it helped the agitation for Biafra?" Vanguard quotes Ndukwe as saying.