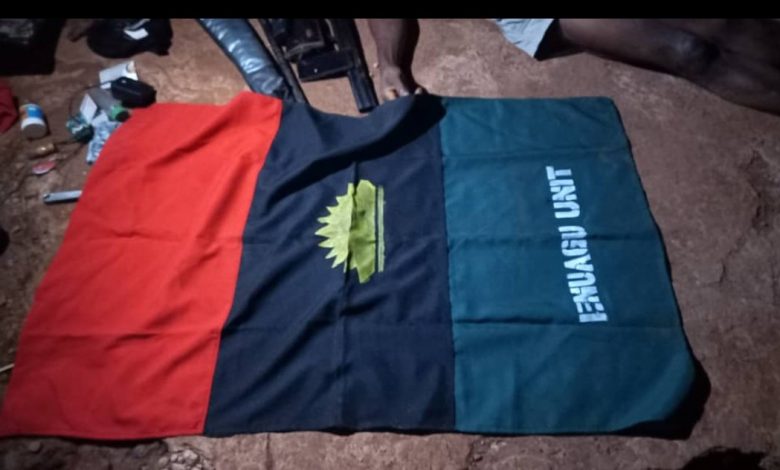 On Thursday, 9th September 2021, the President and Commander-in-Chief of the Armed Forces of the Federal Republic visited the Eastern Heartland, one of the states in IPOB's 'Republic of Biafra' in gross violation of the Sit-at-home order issued by Onyendu Mazi Nnamdi Kanu's stalwarts.
According to reports from an online news outfit; 'IPOB out of sight as President Muhammadu Buhari Arrives in Imo' off course IPOB was nowhere to be found 'Despite the threat by the Indigenous Peoples of Biafra (IPOB) to disorganize President Muhammadu Buhari's visit to Imo state…' They were in Aguluzigbo my hometown, where they reportedly burnt a car in Oye-mma Aguluzigbo.
There are many talking points about the President's visit; from the failure of IPOB to defend 'Biafra Land' from the visit of a Sudanese who goes by the name Jubril al Sudan; the large gathering of a small rented happy crowd of Imolites; the alleged commissioning of an old repainted road….But this piece will dwell on the sickening Sit-at-home order by IPOB.
The Sit-at-home ritual which hitherto was embraced by virtually every inhabitant of 'Biafra Land' seems to have lost its endorsement, many who ab-initio saw it as a welcomed development, a testament to Igbo strength and unity, and a credence to the saying ; 'anyuko mamiri onu ogba ufufu', now find the ritual nauseating. Through the instrumentality of the Sit-at-home, the maxim 'Igwebuike' (unity is strength) was attested to.
The Sit-at-home which was made very popular by the Supreme leader is a stay-indoor phenomenon which comes into force every 30th of May, to commemorate lgbos who died as a result of the Civil War. On such a day, the entire South Eastern part of Nigeria is on what could be described as a lockdown.
Not even the combined forces of the dreaded Covid and Government's 'Stay Safe, Stay Indoor' mantra was potent enough to turn the region into a ghost town, seeing pictures of the lifeless streets of Enugu or the naked Niger Bridge of Onitsha on the walls of Facebook gladdened the heart and reinforced the believe that when Igbos come together, nothing will be impossible to achieve. It was a sight to behold, it was a show of force, and it was a bold statement until the handshake went beyond the elbow.
Things started falling apart in June when Mazi was allegedly kidnapped from Kenya and brought back to Nigeria to continue his trial. On the 26th of July, the -day he was scheduled to be in court, Sit-at-home was declared and obeyed. Perhaps, pleased with the level of compliance and the discourse that emanated thereof, IPOB decided to leverage on the gains of the July 26 Sit-at-home, in their 'wisdom', they came up with an edict pronouncing every Monday as Sit-at-home until Mazi regains his freedom, this edict didn't go down well with many including those who vehemently supported the July 26 Sit-at-home and the 30th May annual Sit-at-home.
Realizing that the proposed Monday ritual wasn't well received, IPOB rescinded their directive on the Monday weekly imprisonment, but rescinding that decision is like recalling a bullet after pulling the trigger, it was impossible, the damage was already done, despite threats from state governments of disengaging workers/withholding their salary, civil servants still won't report to work on Mondays.
IPOB's modus operandi is known, a by force by fire system of government. Familiarity they say leads to contempt, South Easterners have been subjected to a litany of Sit-at-homes, they have become too familiar with the unproductive self-torture and hence, in dire need of fresh air. Following series of attacks on those who dared to defy IPOB's Directorate of States, no one would dare come out even when the Sit-at-home is now choking and mentally challenging.
IPOB have released statements on different occasion distancing itself from the attacks. In August, it was reported that suspected IPOB members burnt a passenger alive in Mbaise. It was also reported that two persons were shot dead in Nnewi for violating the Sit-at-home directive. Reacting to the report, an IPOB scribe said that; 'IPOB never forced anyone to obey Sit-at-home issued by IPOB leadership…those killings were done by Nigerian security forces disguised as ESN to implicate IPOB and ESN.' As soothing as IPOB's rebuttal may sound, this position by the IPOB Boss Nnamdi Kanu waters down their claim of innocence; 'From 6.pm on the 29th there will be no movement…if you are found outside from 6.pm you are dead.'
Since the irrational pronouncement of Mondays as Sit-at-home, there is hardly any Monday that goes by without reports of violence visited on citizens whose only crime is exercising their freedom of movement. Every Monday, fear resides in the hearts of residents, behind closed doors, residents spend time giving situation report about their vicinity by sharing pictures of deserted streets on Facebook and sourcing for posts on 'enemies of Biafra' who will defy the sacred Sit-at-home order and how they are reprimanded by certain unknown gunmen.
On Tuesday August 10, a lawyer in Owerri lamented on the inability of some students in the South East to sit for their NECO mathematics Exam. The lawyer, Prince Christopher Muo postulates that such situation was an impediment in the educational development in the region. On Monday, 13 September, reports had it that suspected Sit-at-home enforcers stopped the activities at Comprehensive Secondary school Nkume-Njaba in Imo state, an action that deterred students from sitting for the WAEC English examination.
On Tuesday 14 September, some hoodlums looted and burnt a bread delivery van for failing to sit at home on a day IPOB had set aside to honour victims of the Military onslaught that took place in Afaraukwu, Mazi's country home The economic sector is the worst hit as economic activities are grounded, Markets, Banks, Schools and government institutions are closed, not even peasant hawkers who depend on their daily commercial activities to feed are seen on the streets, as His Excellency Dave Umahi rightly observed '…it is the worst thing to happen to the South-East because it will destroy the economy of the South –East.'
IPOB is losing ground, if they haven't lost ground already, the popularity they enjoyed from some Igbos who believed and still believe in some fantasy republic IPOB promised is being replaced with notoriety, and their admiration is substituted with disappointment, their hopes are now overshadowed by uncertainty. IPOB, the hope a 'sovereign Biafra' is now feared. Terror is about fear- IPOB has successfully instilled fear in the South East. His Excellency Dave Umahi captures it aptly; '… some people in the South-East are afraid of coming out. So it's not a question of compliance. It's a question of fear…'
The Monday Sit-at-home is destructive and highly unproductive; rather it further diminishes the already battered image of IPOB. With recent events, analysts, nay critics who were of the view that IPOB's proscription was unmerited may have a hard time defending events of the recent past. Ndi Igbo should be allowed to go about their daily activities unencumbered the country is already too hard on people. The fact that not all Igbos want Biafra must be acknowledged and respected. Igbos who want Biafra are not more Igbo than Igbos who hope and work for better Nigeria. Taa bu gbo.
Amakor Bernard Writes from Aguluzigbo ([email protected])