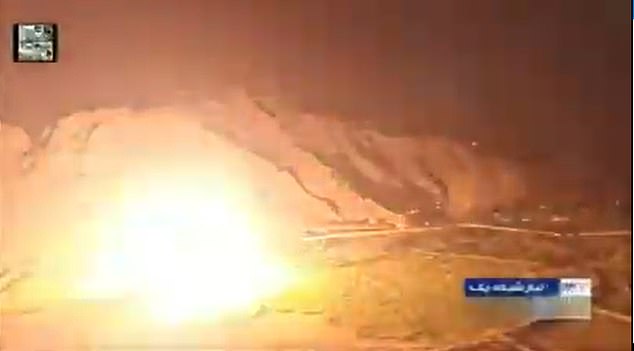 Iranian state television has claimed that at least 80 'American terrorists' were killed in attacks involving over a dozen missiles launched by Tehran on U.S. targets in Iraq.
Although some said, about four of the missiles were intercepted, but the report said none.
Some versions claimed that the United State Government had already evacuated its personnel from the bases before the attack, leaving Iraqi residents to suffer the consequence.
The State TV, which cited a senior Revolutionary Guards source, also said Iran had 100 other targets in the region in its sights if Washington took any retaliatory measures.
While stating that the U.S. helicopters and military equipment were 'severely damaged' as a result of the attacks, an official of the US Government said those in harm's way were able to scramble to safety and hide in bunkers during the attack.
Reacting to the attack, a U.S. military official said there were no immediate reports of American casualties.
It could be recalled that Iran launched missile attacks on American-led forces in Iraq in the early hours of Wednesday in retaliation for the U.S. drone strike, which killed Iranian general Qassem Soleimani.
Expectant of the retaliation, U.S. troops have reportedly been given early warnings of the missile launches and were able to sound the alarms at least one of the two targeted bases.
Iran on Wednesday attacked Al-Asad and Erbil bases, although the U.S. troops had been practicing safety drills for some time.
Meanwhile, the Iraqi officials have said that there were no casualties among their forces either.
President Donald Trump, who had promised to address the nation on the incident, later today, tweeted that 'all is well' and as the damage and casualties continued to be assessed.