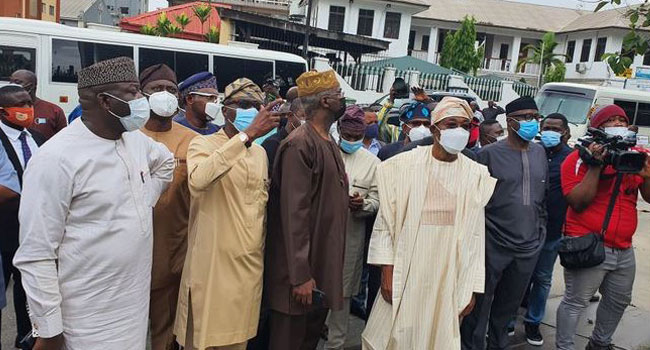 A member of the Lagos State Judicial Panel on Police Brutality, Ebun-Olu Adegboruwa (SAN), has condemned the visit of South West governors and some Ministers to the Lekki Toll Gate on Sunday.
Adegboruwa, in a statement on Monday, said it is illegal for the governors and Ministers to have visited the toll gate without any member of the panel present. According to the Human rights lawyer, the panel should be allowed to do its work without interference.
He noted that the independent panel of inquiry to investigate the incident and police brutality set up by the state government should be in charge of investigating what happened at the tollgate.
Adegboruwa also condemned the discovery of a video camera recorder by the Minister of Works and Housing, Babatunde Fashola (SAN), at the Lekki toll plaza. He accused Fashola of illegally tampering with exhibits that may become useful to the panel in the course of its assignment.
The lawyer added that It is contempt of the panel for anyone to usurp the powers of the panel by tampering with evidence at the toll gate and visiting the scene of the crime without the knowledge of the panel.
He, however, appealed to the Governor of Lagos State to allow the panel the full autonomy and independence that was promised at the time of inauguration.