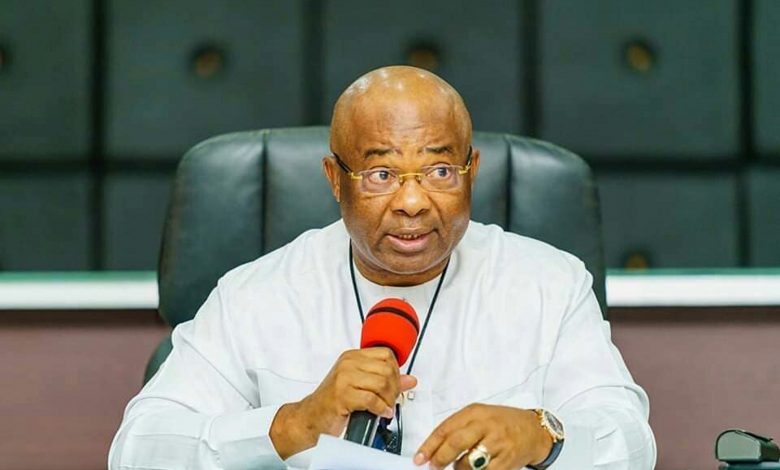 The Imo State chapter of the Peoples Democratic Party (PDP) has lambasted Senator Hope Uzodimma over recent comments on his emergence as Governor of the state.
PDP stated that judicial fraud made Uzodinma Governor of Imo State, not God.
PDP warned the governor to desist from telling people that God made him governor of the state.
Collins Opurozor, the PDP publicity secretary in the state, made the disclosure in a press statement released yesterday evening in the state capital.
Opurozor stated that PDP under Senator Samuel Anyanwu as governor will wipe away tears, bring succour and restore Imo to her enviable height after November 11 governorship polls.
According to him, Uzodimma's comments during a church service that God installed him as governor amounted to blasphemy on the altar.
Opurozor said Uzodimma was declared governor of an election he barely participated in and came from a distant fourth position.
He said "Though we know Senator Uzodinma to be sorely deficient in morality, sincerity and integrity, we had at least expected him to pretend to respect God by not spewing barefaced lies and blasphemy against the Almighty God right on His Holy Altar. But he has once again proven that leopard cannot change its spots.
"He rode to power through the most satanic conspiracy enforced by the worst judicial fraud in the history of Nigeria. And wherever the forces of darkness reign, there is always blood, there is fire, there is weeping and there is misery. That is the case today in Imo State. It is the character of Satan to give with one hand and take with the other hand.
"Our Party recalls that in the aftermath of Uzodinma's infamous judicial victory, Justice Nweze of the Supreme had cried out, that the decision of the Supreme Court to create and impose a governor on Imo State would continue to haunt Nigeria's electoral jurisprudence forever. Till date, Imo has continued to be remembered whenever judicial travesty in Nigeria is discussed.
"Justice Nweze also noted that Uzodinma, during the election tribunal, admitted that he hijacked the result sheets from the electoral umpire officials and completed the result sheets by himself.
"He concocted results from 388 nonexistent polling units without indicating the votes polled by other political parties nor the number of accredited votes. Nweze regretted that without evidence of meeting other constitutional provisions, the court misled itself into declaring Uzodinma as winner" Uzodimma said.
According to him, the PDP was "duty-bound to remind Uzodinma that the God he mocked with his statement is not an author of fraud, criminality and injustice. The fraud that brought him to power turned Imo into a killing terrace, a field of agony, and a land of lack, deprivation and hopelessness.
"He cannot claim to have been installed by God when under his watch Imo has become a city of bloodshed and has plummeted in all indices of good life and good governance. This is not God's desire for His people in Imo State. God is peace. He is also love and life. He is the ultimate giver of joy. But Imo today occupies the top positions in all the indices of social strife and misery in Nigeria".
Opurozor called on Uzodimma to "stop dropping the name of God in celebration of his abominable truncation of democracy and vicious usurpation of the people's mandate in Imo State."
Meanwhile, the PDP has expressed hopes that they will reclaim the mandate from November 11th 2023 under their gubernatorial candidate, Senator Samuel Anyanwu.
"Imolites are aware that their covenant with God to reestablish a PDP-led administration in the State under Senator Samuel Anyanwu, which will wipe away tears, heal all wounds, offer succour to the masses, behead the monster of insecurity, make the land yield again, bring back those who have fled because of killings and make Imo safe again shall come to fruition on November 11, 2023. God never fails".