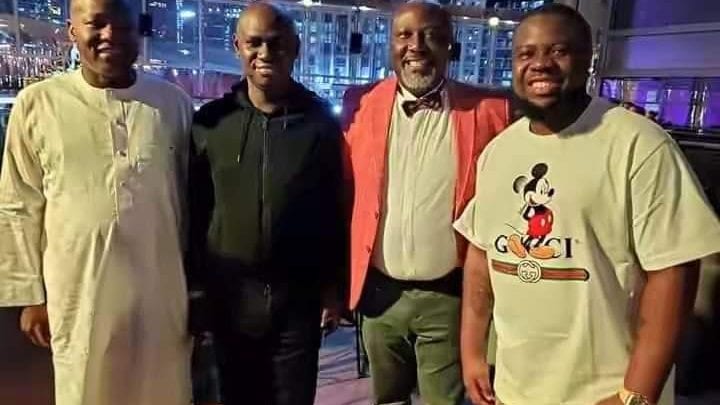 The All Progressives Congress, APC, as doubled down on its call for an investigation into the activities of certain PDP Chieftains over an alleged relationship with a disgraced fraudster, Ramoni Olorunwa Abbas, alias Hushpuppi.
It will be recalled that the party issued a statement on Saturday calling on the Economic and Financial crimes Commission, EFCC, to investigate Former Presidential Candidate, Atiku Abubakar, Former Reps Speaker, Yakubu Dogara, Senator Dino Melaye and former Senate President, Abubakar Bukola Saraki over alleged ties with Hushpuppi as they have all been pictures interacting with the Fraudster.
On Sunday, the party posted a video of Hushpuppi discussing and laughing with Dogara, Timi Frank and Dino Melaye on its social media page. The party tweeted;
"BREAKING !!!
"[THE VIDEO THEY TRIED TO HIDE FROM NIGERIANS] Seeing is Believing…DUBAI STRATEGY IN PROGRESS! PDP [@OfficialPDPNig] leaders, @YakubDogara, Timi Frank, @dino_melaye & others with their GOOD FRIEND Hushpuppy, winning and dinning at an EXCLUSIVE GLAMOROUS restaurant in Dubai."
Watch the footage below;
[VIDEO THEY TRIED TO HIDE FROM NIGERIANS]

Seeing is Believing…

DUBAI STRATEGY IN PROGRESS!

PDP [@OfficialPDPNig] leaders, @YakubDogara, Timi Frank, @dino_melaye & others with their GOOD FRIEND Hushpuppy, winning and dinning at an EXCLUSIVE GLAMOROUS restaurant in Dubai. 👇 pic.twitter.com/HJQhfLbTin

— APC United Kingdom (@APCUKingdom) July 5, 2020