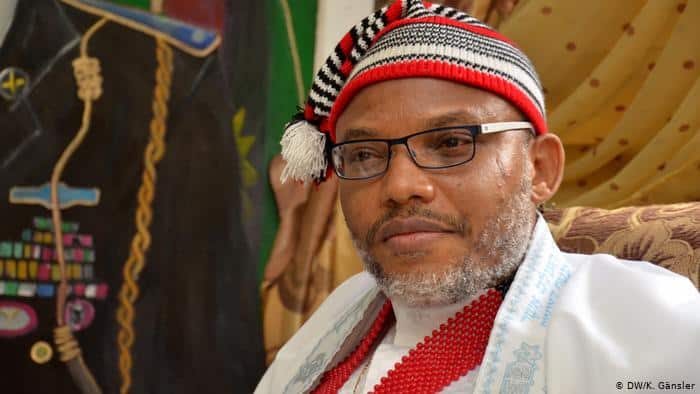 Nnamdi Kanu, leader of the Indigenous People of Biafra has alleged that President Muhamadu Buhari can't access his office because of Abba Kyari's 'Palm Print'.
Kanu, a known critic of the Buhari administration and Pro-secessionist, in a live Radio Biafra broadcast, claimed that the 'chinese' are currently working on melting down the office door, adding that it was only the late Kyari that had access to it.
"You cannot access the office. They need Abba Kyari to open the Presidential office. They need to do the palm print of Abba Kyari to open the office,"
"If they can enter the presidential office and stream live from there, I will abandon Biafra, I will come on LIVE to apologize and abandon Biafra. But they can't do it, the Chinese is working tirelessly to meltdown the door. He (Abba Kyari) was cremated when he died, no retina scan, no palm print, they cannot access the office. Anybody they are receiving now cannot go into the office," he said.
Kanu also claimed in a statement via his twitter handle, that Kyari's death had two major implications on the country.
"Kyari's DEATH has 2 major implications. First – Nigeria, despite being in denial, has lost her de-facto PRESIDENT."
"Second – the BILLIONS of dollars STOLEN by Kyari & secreted away in Europe, especially the UK, may never be recovered unless worldwide pressure is brought to bear." he tweeted.
Kyari's DEATH has 2 major implications. First – Nigeria, despite being in denial, has lost her de-facto PRESIDENT. Second – the BILLIONS of dollars STOLEN by Kyari & secreted away in Europe, especially the UK, may never be recovered unless worldwide pressure is brought to bear. pic.twitter.com/gKQkTjfYSF

— Mazi Nnamdi Kanu (@MaziNnamdiKanu) April 18, 2020