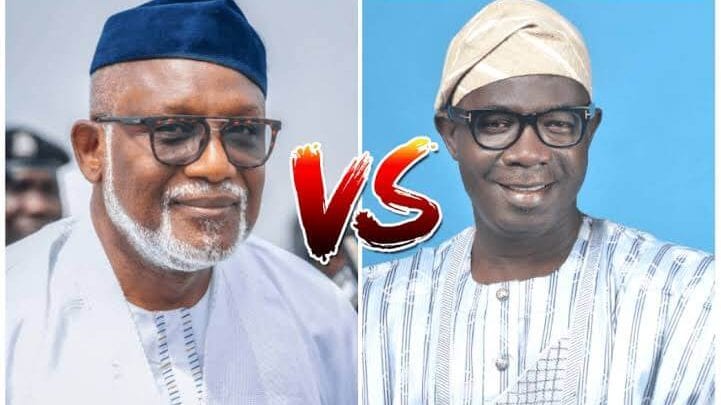 The Governor of Ondo State, Rotimi Akeredolu has refused to hand over the reigns of power to his deputy, Agboola Ajayi following the former's COVID-19 diagnosis.
Akeredolu tested positive for the deadly virus a few days ago and has proceeded on self-isolation. He is supposed to handover to Ajayi but has refused to.
Speaking through his information and Orientation Commissioner, Donald Ojogo in Akure, the governor said that the deputy governor "is a threat to good governance in the state.
"Mr Governor will not be advised to hand over to his deputy, it is not done because there is no reason for that. "The deputy governor has since left our party and has since left governance, even though he has not left government."
"You cannot hand over government to someone who has left governance, or handover the rein of government to someone who attempted to pull down the government."
"ln any case, those of us in government and belief strongly in this government see the deputy governor as the greatest threat to good governance in Ondo state and you can't attempt to handover to people like that. Agboola Ajayi is the greatest threat to this government."
"I don't know-how and we got into this, what we witnessed in 1983, the level of treachery that was deployed against late Adekunle Ajasin. " Except for those who have the opportunity to witness what we are seeing in Ondo state, one may be tempted to say that was the height or nothing could surpass the level of treachery but what we are seeing today represents the fact what Omoboriowo did in 1983 was a child play compare to what Agboola Ajayi is doing now."
It's no longer news that Akeredolu and Ajayi have been at loggerheads. Their rift ultimately pushed Ajayi to defect to the Peoples Democratic Party, PDP. He is currently contesting against his boss in the upcoming state elections.