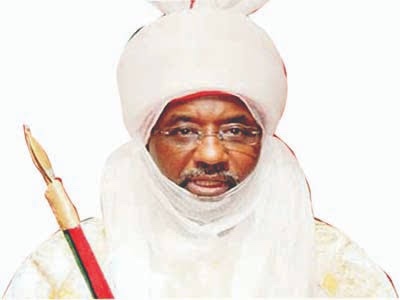 Abubakar Mahmoud, Muhammad Sanusi's lawyer has vowed to challenge his dethronement and banishment in court.
Although POLITICS NIGERIA reported how the deposed monarch claimed to have accepted his fate, his lawyer, Abubakar Mahmoud (SAN), declared the latest development in a briefing few minutes ago in Abuja.
He said the restriction of the Emir's movement and his dethronement were unlawful and gross violation of his human rights.
While Mr Mahmoud said his team would do this because it is "illegal, unconstitutional and a clear abuse of power," he said Mr Sanusi had not given them any directive to challenge his dethronement in court.
The legal practitioner also labelled the tradition that supports the banishment as an archaic practice that has no basis in Nigerians law.
He said his team was concerned about the safety of the deposed and for the the immediate release of the Emir, whom he said he had not heard from since he was taken out of Kano on Monday.
Mr Mahmoud further decried the "emotional trauma and distress" the former Emir was subjected to in the about "seven hour drive to his current location in Nasarawa State."