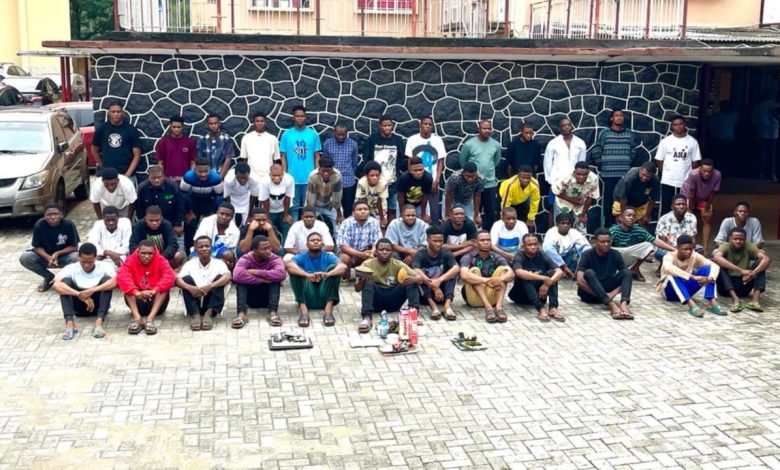 The Economic and Financial Crimes Commission (EFCC) Lagos zonal command, has arrested 52 suspected internet fraudsters in Ogun state.
In a statement seen by Politics Nigeria, the EFCC identified the suspects as Olamilekan Jamiu Ayuba, Ogundeyi Oluwaseun Kayode, Abdulrahman Ismail Abiodun, Blessing Oluwaseun Omokaro, Olasupo Ademola Ridwan, Adetola Roqeeb Salau, Adeola Alamin Ideraoluwa, Victor Daniel Osikwemeh, Taiwo Ayobami, Eleshin Ademola, Ayomipo Adelere, Shogbesan Quadri and Sanni Qudus.
Others who made the list are Olanite Oluwatosin, Olatunbosun Yusuf Alameen, Aderemi Adewole Adekunle, Olawunmi Oluwaseyi Tosin, Ayobado Joseph Olatunde, Ariyo Temitope Taofik, Olugbade David, Olumayowa Adeyemi Adedayo, Aremu Ahmed Alabi, Akintosoye Tomiwa Pelumi, Fatoye Damilare Akanbi and Adio Emmanuel Oyebanji.
Also, Adekoya Samuel, Adebayo Taiwo, Olawale Bayole, Emmanuel Benjamin, Omotosho Ayobami, Usman Boluwatife, Adewale Adeniyi, Obadina Olawunmi, Ashiru Abdullahi, Ahmed Mubarak, Idowu Kazeem, Olukoya Emmanuel,Yusuf Lukman, Agesin Eniola, Tajudeen Mustapha, Falola Olalekan, Usman Funsh, Bolaji Usman, Ayiyon Naoh, Mohammed Adeoye, Babatunde Seun, Afela Mustapha, Yusuf Habeeb Olanrewaju, Alao Ayomide, Oyeleye Uman Abduljelil Raji, Adeniyi Abdulmojeeb were picked up by the anti-graft agency.
The suspected fraudsters were arrested during sting operations between Wednesday, June 7, and Thursday, June 8, 2023, following information received by the anti-graft commission about their internet fraud-related activities.
Cars, mobile phones, and laptop are some of the properties recovered from the suspects.
The suspects will be charged to court immediately investigations are concluded.