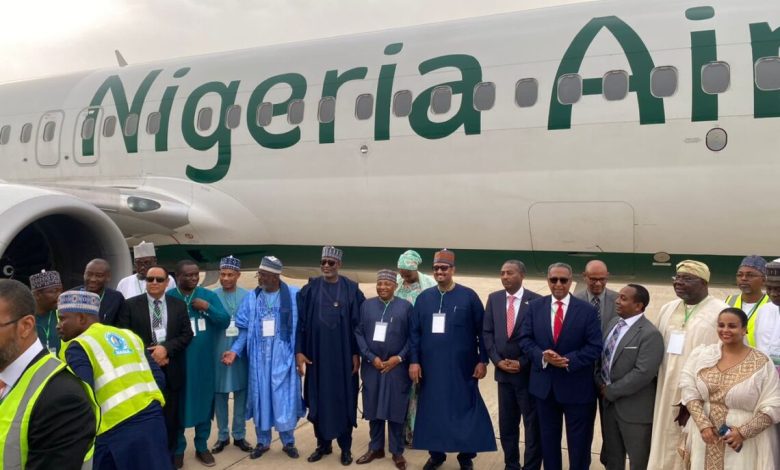 The federal government of Nigeria has officially introduced the controversial national carrier, Nigeria Air, just days ahead of the inauguration of a new administration.

POLITICS NIGERIA reports that the unveiling of the national carrier aircraft took place at the premises of Nnamdi Azikiwe International Airport in Abuja on Friday, with Aviation Minister Hadi Sirika presiding over the event.

Addressing journalists at the airport, the minister highlighted the process undertaken since 2015, stating, "When we came in 2015, we knew what to do. We commissioned consultants to give us a brief of what the sector would be…"

He further revealed that Nigeria Air is a collaborative investment venture between Nigerian entrepreneurs and an Ethiopian consortium.

In March, the minister had hinted that the national carrier would commence operations before the swearing-in of the new administration on May 29. Mr. Sirika stated, "Operation of local and international flights will commence soon. Before the end of this administration, before May 29, we will fly."

The concept of Nigeria Air, the proposed national carrier, was initially unveiled at the Farnborough Air Show in England on July 18, 2018. However, the project was suspended two months later due to concerns raised by critics regarding its viability and sustainability.

The projected cost for Nigeria Air was estimated to be $8.8 million for preliminary expenses and an additional $300 million for the initial launch.

The idea of a national carrier emerged years after Nigeria's previous airline, Nigeria Airways, collapsed due to corruption and mismanagement.

In July of the previous year, the Federal Executive Council approved the leasing of three aircraft to facilitate the commencement of operations for the national carrier.

By September, Mr. Sirika announced during a press briefing in Abuja that Ethiopian Airlines had become a core investor in Nigeria Air, holding a 49% stake in the venture.