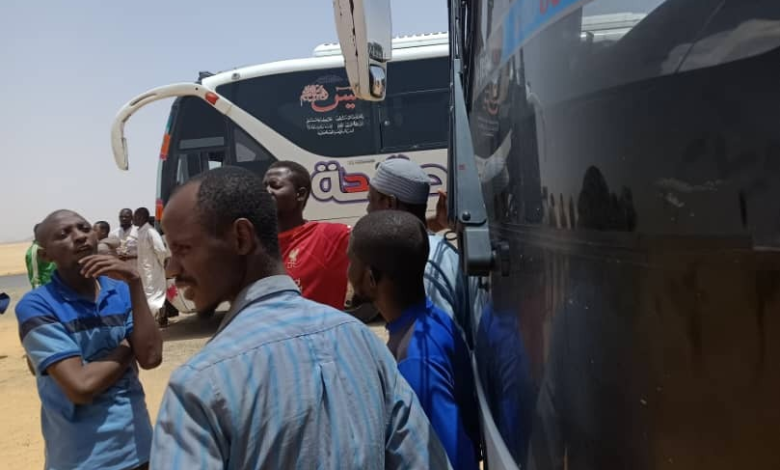 Numerous Nigerian students who fled the unrest in Sudan are reportedly stuck in the desert.
POLITICS NIGERIA reports that the Nigerian government had announced that it released N150 million to hire 40 buses to transport Nigerian citizens from Sudan to Cairo in Egypt, from where they would then be airlifted to Nigeria.
However, some of the students who were being evacuated have shared their bitter experiences about the journey.
One affected student, who chose not to disclose her identity, revealed that the drivers have refused to continue the journey due to a lack of funds, reports Daily Trust.
"Before we started this journey, we experienced different things. Can you believe that we have been stuck in this desert for 5 hours. We don't know the situation we are in.
"We don't have water. Our money has finished. Can you imagine? The drivers said they are not moving their buses because they have not been paid. We are stuck in the desert. We don't have anything. We don't even know where we are. We are in an unknown location and in a very big danger."
This comes after clashes erupted between General Abdel al-Burhan, who heads the Sudanese Armed Forces, and General Mohamed Dagalo, leader of the RSF paramilitary group, over a power-sharing dispute. The conflict has resulted in approximately 500 fatalities, with thousands more injured and millions displaced.
As a result, countries have been working to evacuate their citizens since the Sudanese armed forces and the Rapid Support Force declared a three-day ceasefire.
Recall that Abike Dabiri-Erewa, Chairman of the Nigerians in Diaspora Commission (NiDCOM), had confirmed that the evacuation had begun.
Geoffrey Onyeama, Minister of Foreign Affairs, and Zubairu Dada, Minister of State for Foreign Affairs, had expressed their desire to make use of the 72-hour ceasefire to evacuate as many Nigerians as possible from Sudan.
Approximately 5,500 Nigerians, including students, were stranded in Khartoum and other cities in Sudan as a result of the conflict.