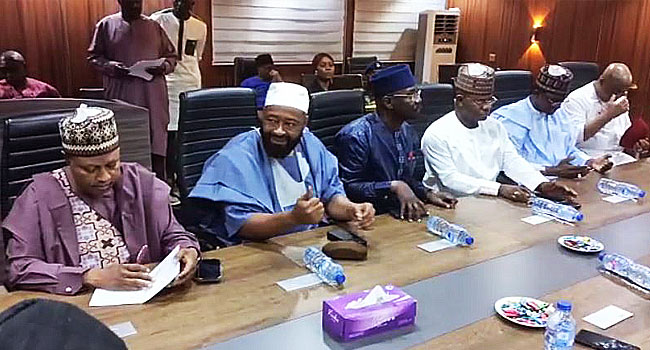 Imo State Governor, Hope Uzodimma, has emerged as the new Chairman of the Progressives Governors Forum, the umbrella body of the All Progressives Congress (APC) governors.

POLITICS NIGERIA reports that the announcement was made by Yobe State Governor, Mai Mala Buni, during a meeting at the APC national secretariat in Abuja.

Governor Buni, along with a delegation of APC governors, including Mohammed Bago (Niger), Senator Uba Sani (Kaduna), Inuwa Yahaya (Gombe), Abdullahi Sule (Nasarawa), and Yahaya Bello (Kogi), were in attendance at a meeting chaired by APC National Chairman, Senator Abdullahi Adamu.

During the meeting, Governor Buni introduced Governor Uzodimma as the newly elected Chairman of the Progressives Governors Forum.

Upon the introduction, Uzodimma received applause from his fellow governors as he stood up to acknowledge the role.

In his address, Chairman Adamu congratulated the governors on their success in the March governorship elections and encouraged them to focus on delivering good governance to their respective states.

He also expressed gratitude to the governors for their prompt attendance despite the short notice.

Highlighting the importance of filling the leadership vacuum left by their predecessors in the Progressives Governors Forum, Chairman Adamu emphasised the need for Governor Uzodimma to adhere to the party's principles and involve his colleagues in decision-making processes.

"One of the issues we thought we will express our desire to have you take steps to ensure that you fill the vacuum created with the exit of your predecessors (with) the leadership of the Progressives Governors Forum," he stated.

"As God will have it, you filled the vacuum before this meeting with us. It is our hope and prayer that God will continue to guide you in all that you will be doing to administering to our people."

Governor Uzodimma, in response, pledged his commitment to working closely with both the national and sub-national levels.

He assured the gathering that the forum's purpose is to enhance the party's activities and governance.

Uzodimma expressed confidence in the collective capabilities of the members and their dedication to implementing the party's policies.

"Under my watch, we will be very close to the party. The purpose of the forum is to add impetus to the activities of the party and governance.

"I can assure you that you have a team, that working together with the kind of men I have seen as Progressives Governors' members, we have gotten all that it will take to ensure that the policies (are followed)," he said.