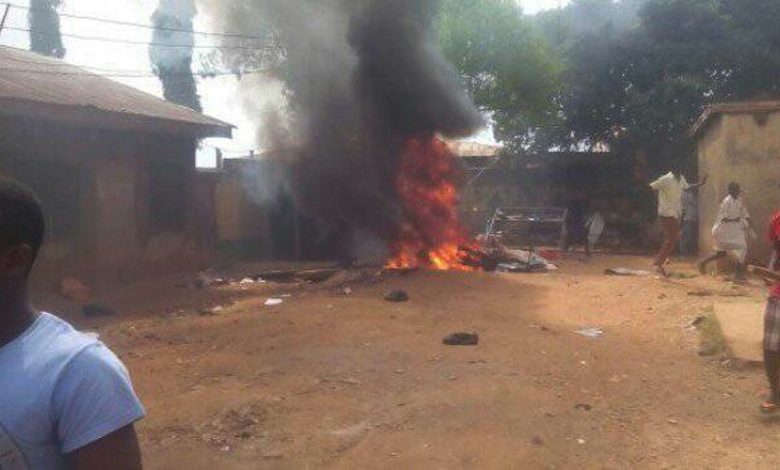 A report by Nigerian Tribune indicates that there is palpable tension in Nasarawa community, a suburb in Chikun Local Government of Kaduna State, after an Islamic cleric, Abubakar Sani, slaughtered dog meat to celebrate his son's birth.
According to the report, when the news spread in the community, angry youths stormed his house and partly destroyed it before a detachment of security personnel deployed to the troubled community saved him from further hostilities.
Speaking in an interview, the councillor of the troubled community, Adamu Muhammad, confirmed the incident and said, "Some aggrieved youths stormed the residence of the cleric when they found out that he slaughtered two dogs.
"We told them that even if it is true, they can't take the law into their hands. We are always trying to maintain law and order, he stressed.
Speaking in an interview, the cleric insisted that there's nowhere in the Qur'an where it was mentioned that no one should not eat dogs.
Citing many verses to back, he said what he did was based on his understanding of the religious book.
In the same vein, one of his students, Ismail Abubakar Rijana, contended that the holy Qur'an does not prohibit Muslims from eating dog meat, insisting that "we are Muslims and followers of the Quran. We equally believe in the Quran as a religious book.
"How we practice Islamic religion differs from how others practice it. We understand that people are not happy with us. So, based on our knowledge of the Quran, no verse prohibits eating dogs.
"However, we are ready to change and ask Allah for forgiveness if verses in the Quran convince us that what we did is wrong."
The spokesman of the Kaduna state police command, ASP Mansir Hassan, said sanity has been restored in the community following the deployment of security personnel. He said the police are investigating the incident.