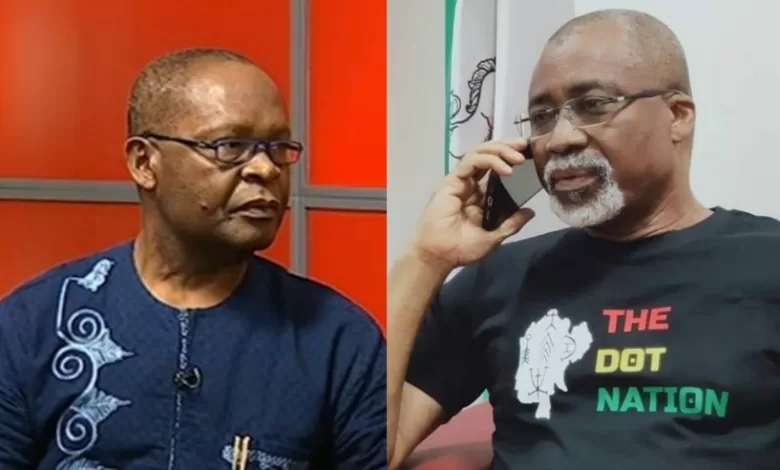 After lashing out at and calling him 'an ethnic bigot and elder for nothing', Joe Igbokwe, a chieftain of the All Progressives Congress (APC) has "settled" with Senate Minority Leader, Enyinnaya Abaribe.
Recall that in June, Igbokwe berated Abaribe over his customised shirt, "The Dot Nation". Abaribe wore "The Dot Nation" T-Shirt to his office in the national assembly to showcase his "Igboness". This was after President Muhammadu Buhari said in an interview with Arise TV in Abuja that the banned Indigenous Peoples of Biafra (IPOB) as "a dot in a circle" who would not have anywhere to run to should they secede from Nigeria.
At the time, Igbokwe vowed that he would write a book on Abaribe soon.
"A Senator and an ethnic bigot, an elder for nothing," Igbokwe had written of Abaribe.
"The blood of those policemen and the uninformed youths killed in the South-East will be accounted for in the fullness of time, We cannot be mad all the time."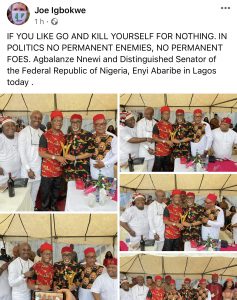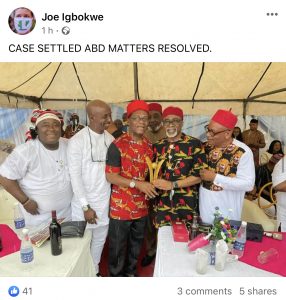 But on Saturday, Igbokwe took to his known Facebook page to declare that 'the cast has been settled, and matters resolved'. He shared pictures of his meeting with Abaribe in Lagos.
"If you like, kill yourself for nothing. In politics, no permanent enemies, no permanent foes. Agbalanze Nnewi and distinguished senator of the Federal Republic of Nigeria, Enyi Abaribe in Lagos today," Igbokwe wrote.
Check out photos below: