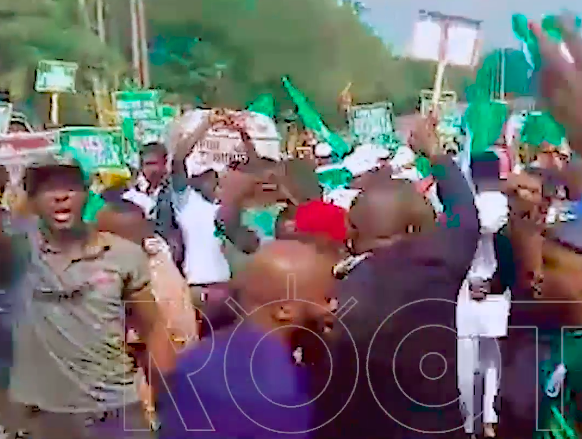 Supporters of IPOB leader, Nnamdi Kanu clashed with Anti-IPOB Protesters in the premises of the Federal High Court in Abuja on Wednesday.
Kanu appeared in court to continue his trial. He is being tried on charges of treasonable felony and terrorism.
POLITICS NIGERIA gathered that his supporters were heard chanting "Nnamdi Kanu is a saviour" to the anti-IPOB protesters, who in turn chanted back to them to 'love your country'.
Kanu, who was brought into the courtroom around 9.52am, had shortly after his case was called up, lamented the refusal of security agents to allow some members of his legal team, especially his lawyer from the United States, Bruce Fein, to enter the courtroom.
He said, "I have an ongoing case in the US. I have not been allowed to see him. He is here to see me and to observe the proceedings.
"He has been to the DSS to see me, but they denied him access to me."
When asked by the Judge, if he was ready to conduct the proceedings himself, in the absence of his lawyers, Kanu said no. The trial was adjourned to January 20th, 2022.
Video Credits: Roots TV