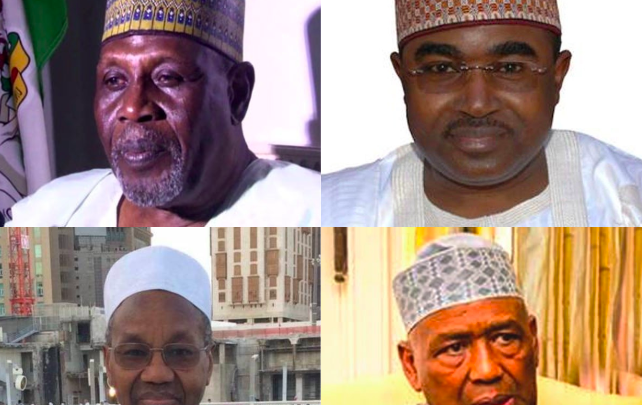 The death of former Chief of Staff to President Muhammadu Buhari, Abba Kyari, was undoubtedly a rude shock to those following the Nigerian political space keenly. Although the rumours of his death sprung up weeks ago, it was doused by his defiant response of "I will be back to the office soon" issued on March 23.
Unfortunately, death waded in on Friday night, stopping the Presidential aide from resuming to his duty post. His could be described as a case of a public official who died in service. Of course, he contracted the virus that killed him after a trip to secure a deal in Germany.
Until his death, Kyari was one of the dreaded officers in Buhari's administration as he wielded so much power and influence. Many regarded him as the brain box behind any perceived success or failure of the administration. This was evident in several leaked memos which exposed how the late Presidential aide upturned the requests of Vice-president, Yemi Osinbajo and the National Security Adviser, Babagana Munguno.
Meanwhile, the question on everyone's lip after his internment on Saturday afternoon is: "who will succeed the controversial but powerful Kyari?".
The office of the Chief of Staff, although unconstitutional, is a salient one which every Governor or President takes seriously. This explains the reason why past presidents appointed their close allies.
Buhari was not an exception as Kyari was said to be a very close ally to the incumbent President. Thus, the replacement of Kyari will likely come from his caucus, who are mostly northerners and members of the ruling All Progressives Congress (APC)
POLITICS NIGERIA in this article reviews the likely successors of late Abba Kyari and why they stand a chance.
1. Babagana Kingibe
Kingibe is a diplomat who successfully transfigured from the military to the civilian rule. The 75-year-old Kanuri is from Borno, the home-state of the late Kyari.
He ventured into politics in the build-up to the transition of the Third Nigerian Republic and was made director of an organization of the People's Front of Nigeria which consisted of politicians such as Atiku Abubakar, Bola Tinubu, Abdullahi Aliyu Sumaila and Rabiu Kwankwaso, which was then led by Shehu Musa Yar'Adua.
It should be noted that after the cancellations of presidential elections in 1992 in which Shehu Yar'Adua was a candidate, Kingibe put himself forward as a presidential candidate.
He lost the keenly contested primary conducted in Jos but after much prodding from SDP governors, he was selected by the primary winner, MKO Abiola as Vice-presidential running mate, creating a Muslim-Muslim ticket which was initially thought to be a dealbreaker in the general elections.
The pair won the electoral majority although the result was annulled by abdicating president General Ibrahim Babangida. Afterwards, Kingibe has been a powerful force in government. He was the Minister of Internal Affairs from 1995 to 1997, Minister of Power and Steel from 1997 to 1998; and Secretary to the Government of the Federation from 2007 to 2008.
However, behind the scenes, the top APC member was a decision-maker in the Buhari administration, alongside the chief of staff, Abba Kyari.
2. Buba Marwa
Another likely successor of Abba Kyari is Buba Marwa, a retired Nigerian army officer who served as governor of Borno State, and then Lagos State during the military administrations of Generals Ibrahim Babangida and Sani Abacha.
After retiring from the Nigerian army at the end of his term as Lagos State Governor, Marwa ventured into airline business by founding Albarka Airlines and the Buba Marwa Endowment, where he relinquished his position as Chairman / Chief Executive Officer in 2003.
Meanwhile, in December 2006, Marwa announced that he would be running in the People's Democratic Party (PDP) primaries to become the party's candidate for President of Nigeria. His bid was unsuccessful, and he gave his support to Umaru Musa Yar'Adua, who went on to become president.
He was then appointed Nigeria's High Commissioner to the Republic of South Africa as a 'compensation' in 2007.
Marwa who earlier decamped from APC due to complaints of unfair treatment of his followers after his party CPC merged with ANPP and the ACN, returned to the APC with his followers when President Muhammadu Buhari was sworn in on May 29, 2015.
The 67-year-old, since then, had been a top member of the ruling party and has close ties with President Muhammadu Buhari.
3. Mamman Daura
If the choice is to come from his family, President Buhari will have no option than to choose his 80-year-old uncle, Mamman Daura.
Mamman, an uncle of the younger Buhari, was reportedly influential in the government of Buhari between 1984 and 1985.
He was a board member of BCCI's Nigerian affiliate, Africa International Bank and founded a furniture factory in Kaduna. He was also a former chairman of the now-defunct Nigerian Bank of Commerce and Industry. In 2019, there was a rift between Mamman Daura and the first lady, Aisha Buhari, which degenerated and became a topic of discourse in the media.
Although President Buhari kept mum, one of his aides, Garba Shehu, who responded, sided the President's uncle. This underscores how influential Mr Daura is in Buhari's administration.
4. Isa Funtua
Another person who can be considered for the position is Ismaila Isa Funtua OFR, who is an in-law of President Buhari.
Funtua is a Nigerian statesman and businessman whose son, is married to President Muhammadu Buhari's daughter.
Ismaila Isa was born in Funtua. He attended the Federal Training Centre in Kaduna as well as Ahmadu Bello University and the University of Manchester.
He was an Administrative Officer at the Katsina Native Authority and was a personnel manager at United Textiles Limited after which he served as a federal minister in the Second Republic.
POLITICS NIGERIA understands that the relationship between the Funtuas and the Buharis can qualify the Kastina state business executive for the post of Chief of Staff. Also, on several occasions, he had declared himself a cabal member in the Buhari administration.