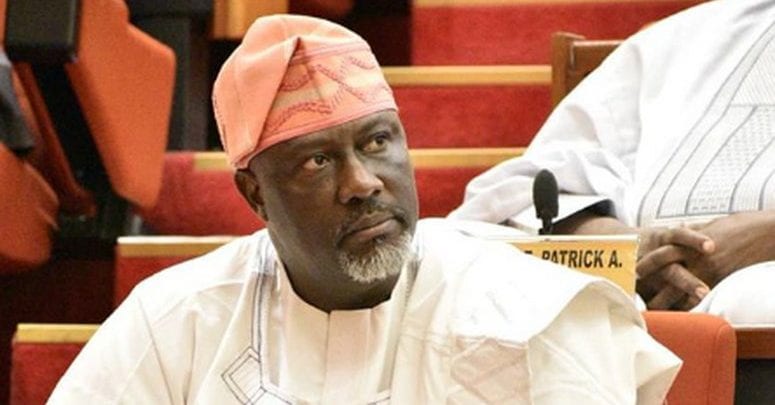 Sentor Dino Melaye has said that the ruling All Progressives Congress, APC will implode very soon adding that it was not a political party but a non-governmental organization.
In a lengthy article titled "THE LEGALITY OR OTHERWISE OF THE APPOINTMENT OF GOVERNOR MAI MALA BUNI AS THE APC NATIONAL CARETAKER / EXTRAORDINARY CONVENTION PLANNING COMMITTEE(CECPC)", Melaye said that the APC will break-up due to the fact that its caretaker committee led by Governor Mai Mala-Buni is an 'illegality'.
"The issue of the legality or otherwise of the leadership of H.E, Governor Mai Mala Buni, as the Chairman of CECPC of the Party has been a fall-out from the judgment of the Supreme Court in favour of Arakunrin Rotimi Akeredolu, SAN and the All-Progressives Congress (APC/the Party) in the Appeal filed by Mr. Eyitayo Jegede, SAN and the People's Democratic Party challenging the victory of Mr. Akeredolu and APC in the October 2020 Gubernatorial Elections."
"The crux of Mr. Jegede/PDP's case was the provision of Section 183 of the 1999 Constitution of Federal Republic of Nigeria (as amended) on the Disqualification of a Governor from Other Jobs which provides that:"
''The Governor shall not, during the period when he holds office, hold any other executive office or paid employment in any capacity whatsoever…''
"The Supreme Court however did not determine the justice of Section 183 of the 1999 Constitution vis-à-vis the peculiar position of H.E, Mai Mala Buni as the Chairman of APC Party's CECPC but only dismissed the case on the ground that the Governor being a necessary party to the suit was not joined as a party. For emphasis, it is important to quote the Supreme Court, per Agim, JSC where the Court held that:"
"The Appeal was based on the ground that Mai Mala Buni, the Chairman of the National Caretaker Committee of the party, that is, the Second Respondent (APC) was holding office as Governor of Yobe State, contrary to section 183 of the Constitution of the Federal Republic of Nigeria (1999)''.
"All the issues raised, revolved around Mai Mala Buni. But, Mala Buni, who is at the centre of the dispute was not made party to the petition. It is obvious that the determination of the said issues will affect him."
Melaye further stated that Buni's appointment as caretaker chairman violated the clear provision of Section 183 of the 1999 Constitution as well as the Article 17(iv) of APC Constitution.
"That is why I concluded in many of my interviews that APC is an NGO and not a political party. A party that has no functional National Working Committee and no Board of Trustees in six (6) years lacks the basic ingredients that makes up a political party by law. This will give birth to an implosion that must come."