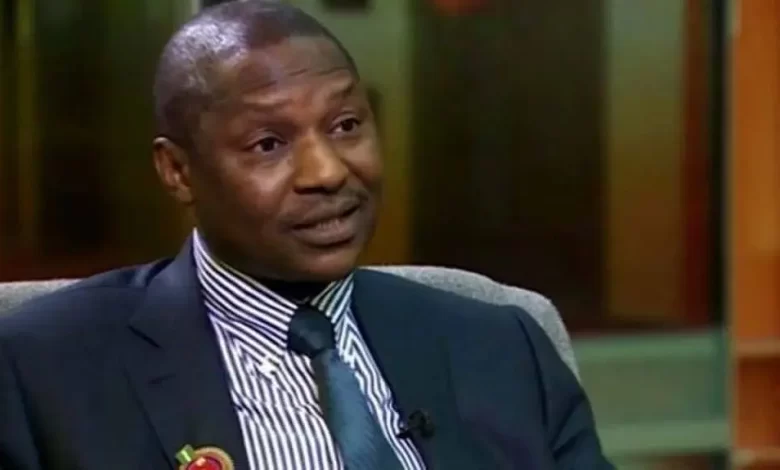 Nigeria's Attorney General and Minister of Justice, Abubakar Malami, might face a significant challenge before the end of President Buhari's-led administration on May 29.
The Federal High Court Abuja has approved the hearing of a suit accusing the Attorney-General of the Federation (AGF) and Minister of Justice, Abubakar Malami (SAN), of abusing his office.
The suit is also seeking an order that would make the AGF pay N1 billion as damages to an international businessman and property developer, Cecil Osakwe.
Politics Nigeria gathered that the plaintiff told the court that the AGF, using his office, arm-twisted him to give out two units of three-bedroom flats in one of his properties situated in Mekong Close, Maitama, Abuja, to a civil servant, Asabe Waziri.
Osakwe alleged that Malami forced him to hand the property worth about N130 million to Waziri, against a subsisting order of a court of competent jurisdiction.
The plaintiff told the court that the AGF waded into a civil dispute his firm had with Waziri and used his position to supervise his continuous harassment by security operatives.
Alleging that his fundamental rights were grossly violated, Osakwe said he sued Malami both in his official and personal capacity.
According to the plaintiff, Malami took the action, even though he was aware that the 2nd defendant had initially moved into the said property and stayed for over eight months before she was vacated from it by a lawful court order that terminated the sales transaction between both parties.
Aside from urging the court to declare that the AGF engaged in abuse of public office, the plaintiff also demanded the court to order him to pay N1bn as damages.