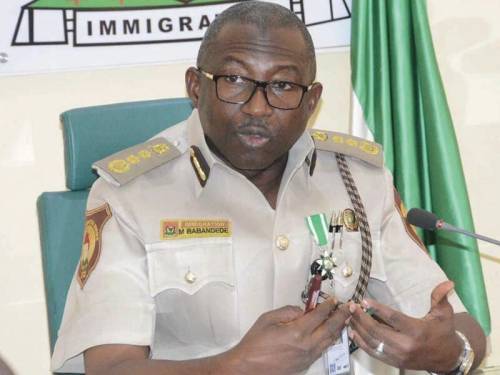 Five female officers earlier queried by the Nigeria Immigration Service (NIS) for participating in "Bop Daddy Challenge" have been reposted, POLITICS NIGERIA reports.
The female officers involved are Priscilla Irabor, Binti Attabor, Ockiya Eneni, Catherine Bakura, and Blessing Udida. Recall that the immigration authorities summoned the ladies in April after the video went viral on social media.
According to the Assistant Comptroller General, Ishiaka Haliru, the footage of the officials revealed a display of indecent flaunting of your bodies, desecration of Service uniform/beret, and use of inappropriate language.
Reacting to the development, a lot of prominent Nigerians kicked against any decision to punish the officers.
However, in a letter obtained by this paper on Wednesday, all the ladies have been posted to different states. They are expected to resume in the next seven days.
While Ms Irabor was transferred from the Lagos State Command to the Nigeria Immigration Training School, Kano, Ms Attabor was transferred from the service headquarters in Abuja to the Yobe State Command.
The two others: Blessing Udida was transferred from the FCT Command to the Akwa Ibom State Command and Ockiya Eneni was transferred from the CERPAC (Combined Expatriate Residence Permit and Aliens Card) Production facility to the Borno State Command.
Moreover, in the letter dated May 12, 2020, the immigration noted that it will not bear the cost of the officers' relocation.