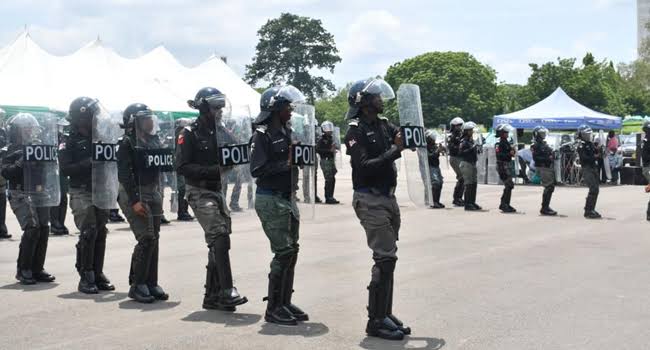 The Nigeria Police Force (NPF) on Thursday informed those who applied for the 2020 recruitment as recruit constable and had successfully progressed to the Medical Screening stage of the exercise that the list of successful candidates is out.
In a press statement obtained by POLITICS NIGERIA, candidates are advised to check their names via www.policerecruitment.gov.ng.
The release, signed by SP Ahmed Mohammed Wakil, the Police Public Relations Officer, Bauchi State Command, asked successful candidates to strictly adhere to the following instructions:
(i) All candidates from Bauchi State are to report at Police Training School, Bauchi. (PTS BAUCHI)
(ii) The training and documentation will commence on Monday 10th January, 2022 and close on Saturday 15th January, 2022. Failure to report for training within the stipulated time will mean that the candidate has declined the offer.
(iii) Candidates are to report with the following items:
a. Two (2) pairs of White Round-Neck T-Shirt and Short Nicker,
b. Two (2) Pairs of White Trainer Shoes and White Socks,
c. Two (2) Pairs of White Sports Wear,
d. Two (2) Pairs of White Bed Sheets,
e. Two (2) White Pillow Cases,
d. Face Mask and Hand Sanitizer,
e. Small Food Flask with Two Flat Plates and a set of cutlery,
f. One (1) Hoe, Cutlass and Broom each,
g. One (1) Bucket and toiletries,
h. Hard Cover Note Book,
i. Original Copy of National Identity Card/Slip,
j. Original Copies of Credentials, and
k. Four (4) Copies of Passport Photograph with White Background.
"Finally, the Commissioner of Police Bauchi State Command, CP Umar Mamman Sanda, fdc, psc, mnim, congratulates the successful candidates of Bauchi State origin and wishes them success in their training. He also reminded them and the citizenry that the recruitment exercise is absolutely free and without any pecuniary obligation. He therefore cautioned all sundry against involving themselves in any forms of corruption in view of the recruitment and urged them to be good ambassadors of their families, State and the nation in general," the release adds.