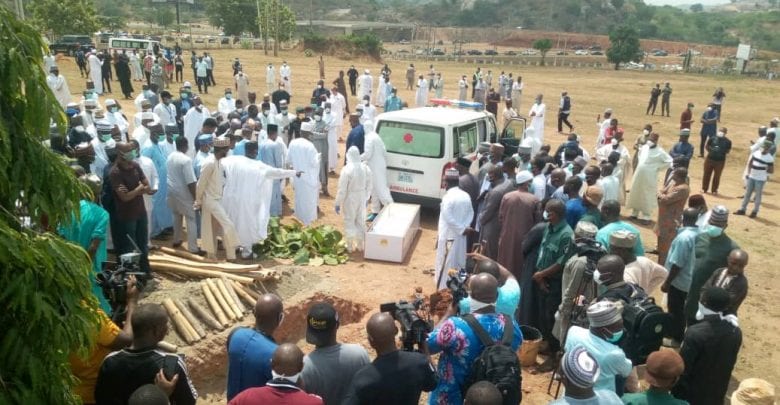 Many Nigerians have attacked the Federal Government for defying social distance rule that forbids gathering of over 25 persons in order to cushion the effect of Coronavirus.
This newspaper reported how Mr Kyari died of Coronavirus and was moved for Abuja on Saturday morning.
He was interred at exactly 11:20 a.m. at the military cemetery in Abuja's Gudu neighbourhood amidst tears from family members and supporters.
The social media is agog as users condemned the presidency of not obeying social distance order.
See tweets below:
https://twitter.com/AyodejiOsowobi/status/1251453086834573313?s=19
Abba Kyari prepared to be buried

Where is the social distance ?

We are not ready in this country pic.twitter.com/Ayth8lK0V3

— Anda (@lazywritaNG) April 18, 2020
https://twitter.com/MisterOyin/status/1251448941117399040?s=19
I wondered what @NCDCgov has been ministering about strict adherence to social distancing protocol when these fifu wouldn't let sleeping dogs lie. This shows that social distancing is simply for the common man. https://t.co/fP5tuZ4SYR pic.twitter.com/3APaWCKSwN

— Abiodun Jamiu (@_Abiodun_Jamiu) April 18, 2020
Can you see you people aren't straightforward in this your enlightenment?

how many persons will you arrest for attending Abba Kyari's janaza?

tell me pls? https://t.co/tT8WmpyTGf pic.twitter.com/vEAgDmlneE

— Samad Uthman🏅 (@sarmerdk2) April 18, 2020
Even now, we have not learnt any lesson. Impunity got us here and we are still basking in it. Nowhere in the world do COVID deaths receive normal burialhttps://t.co/IS9QXAfB0c

— DAYO AIYETAN (@dayoaiyetan) April 18, 2020
The Constitution and rule of law in Nigeria is not for the rich. It's just obvious here pic.twitter.com/N8AURQ8hep

— Samad Uthman🏅 (@sarmerdk2) April 18, 2020