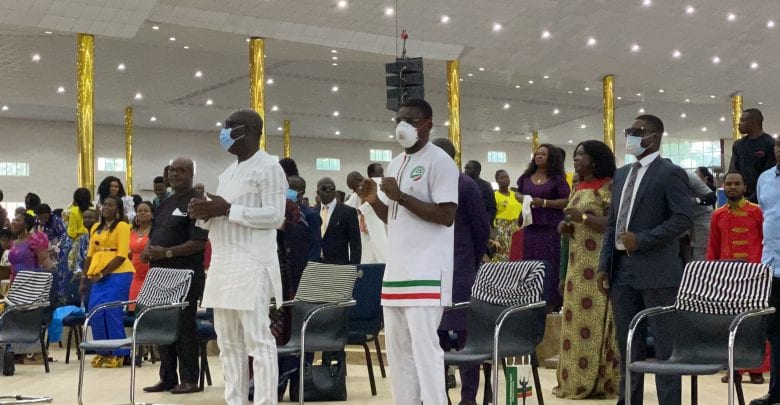 Governor of Edo state, Godwin Obaseki and his deputy, Philip Shuaibu worshipped at Omega Fire Ministries, Auchi, Edo state earlier today.
Members of the church, headed by popular preacher, Apostle Johnson Suleiman, were elated to have the governor worship with them.
It will be recalled that Obaseki rounded-off his five weeks campaign to political wards in the state at his home ward, Oredo Ward 4 on Saturday. He dedicated his ward-to-ward campaign for the poll to God.
Speaking at his ward, he said; "We started from Edo North and we went through all the wards.Tonight is the final stop of this campaign, we want to start by thanking God Almighty. It is only God that can make it possible. It is only Him that saw us through, driving in all of the 192 Wards."
"We traveled thousands of kilometers, sometimes in very difficult terrain, not one incident recorded, not one accident, we give thanks to Almighty God.This experience I believe is new in Edo politics, that is what we are doing is all about 21 years into our politics.We cannot continue to play politics in the year 2020 the way we played it in 1999."
"We realised that God has given us the mandate to come and change the situation we are into. And this is where we derive our strength from.The only person we are afraid of is God Almighty, and because we are afraid of Him, it is only Him we serve, our mandates is God's mandate."
Photos below;