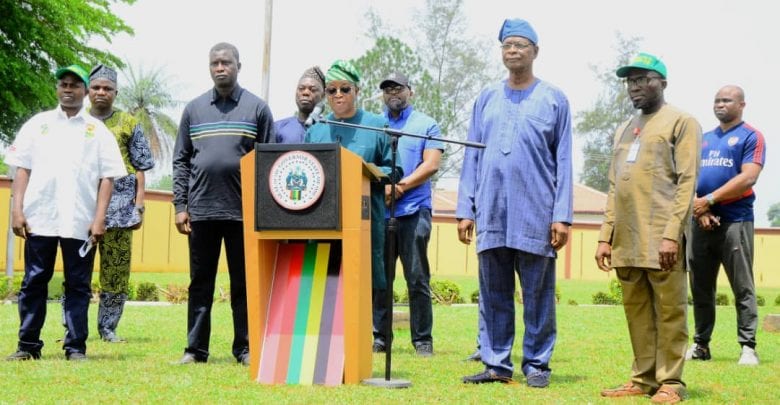 The Governor of Osun State, Gboyega Oyetola has spoken on the case of Coronavirus confirmed in the state on Wednesday.
POLITICS NIGERIA reports that the Coronavirus cases have risen to 46 in Nigeria, with one case confirmed in Osun.
While addressing the press on Wednesday, Oyetola said the infected individual came from the United Kingdom.
"Fellow citizens and residents of Osun, I wish to inform you that the first case of the novel Coronavirus has been confirmed in the State by the Nigeria Centre for Disease Control, NCDC. It's a case of a returnee from UK and is currently receiving treatment.
"We've since contacted the family of the patient and have also immediately commenced contact tracing to identify people who might have come in contact with the confirmed case."
He added: "I also wish to note that the confirmed case wasn't the only sample we've subjected to investigation. But so far, all other samples have tested negative."
The governor also revealed that he has also been tested for the virus as a way of leading by example. He added that he underwent the test considering the fact that he was in Abuja for the better part of last week.
Governor Oyetola also said that his wife has also been tested because of her recent travel history and their test came back negative.
The governor said: "As a way of leading by example, I've subjected myself to test, considering the fact that I was in Abuja for the better part of last week, and my dear wife has also been tested because of her recent travel history. Our tests came back negative."
"To this end, I want to passionately encourage all returnees from the UK, US, Europe, the West African Coast and indeed other high risk countries to self-isolate and submit themselves for test, so as to assist the govt. in containing the spread of the virus."
Fellow citizens and residents of Osun, I wish to inform you that the first case of the novel Coronavirus has been confirmed in the State by the Nigeria Centre for Disease Control, NCDC. It's a case of a returnee from UK and is currently receiving treatment. pic.twitter.com/YaQh2JVp0V

— Adegboyega Oyetola (@GboyegaOyetola) March 25, 2020