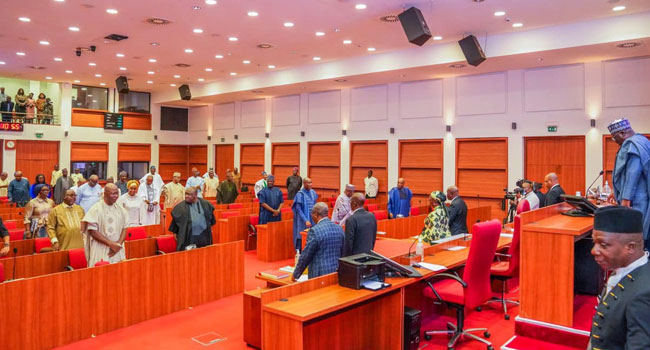 The Senate has significantly amended the 2022 Supplementary Appropriation Act and the Central Bank of Nigeria (CBN) Act.

POLITICS NIGERIA reports that these amendments were discussed during an emergency session held today, just two days before the upcoming presidential inauguration of President-elect Bola Tinubu.

This marks the second time that the 9th Senate has called for an emergency session, with the first being during the height of the COVID-19 pandemic to address the funding needs for pandemic-related initiatives.

One of the key changes made by the National Assembly is an extension of the implementation period for the 2022 Supplementary Appropriation Act. The original deadline of December 31, 2022, has now been extended to March 31, 2023.

The extension aims to ensure the complete execution of the budget, particularly in light of the approved supplementary budget for 2022, which was passed in December of that year.

This extension has allowed various government ministries, departments, and agencies (MDAs) to use a substantial portion of the allocated funds.

However, Senate Leader Abdullahi Gobir revealed that significant funds remain with the MDAs, necessitating a further extension to ensure their complete utilisation.

Gobir emphasised the importance of certain critical projects that are nearing completion, stressing the need to avoid the problem of abandoned projects. Some of these projects were not included in the 2023 Budget, making it crucial to request an extension of the expiration clause in the 2022 Supplementary Appropriation Bill.

In addition to the amendments to the Supplementary Appropriation Act, the Senate also made revisions to the CBN Act. The amendment involves increasing the total CBN advances to the Federal Government from 5% to 15%.

The aim behind this adjustment, as explained by the Senate Leader during the debate, is to enable the Federal Government to meet its immediate and future obligations with the approval of ways and means by the National Assembly, along with advances from the Central Bank of Nigeria.

Among other legislative matters under consideration during the session are the prominent ones, proposed amendments to the 2022 supplementary budget bill and the CBN Act amendment bill.