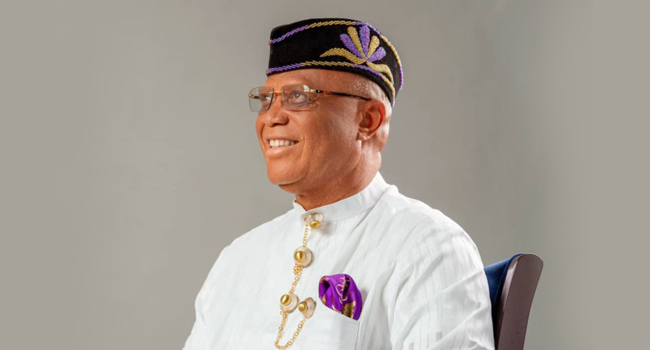 The governorship election petitions tribunal in Uyo, the Akwa-Ibom State capital, has dismissed a petition against the victory of Pastor Umo Eno.
The All Progressives Congress (APC) candidate, Akanimo Udofia, had asked the court to upturn Pastor Eno's election as governor of Akwa-Ibom State.
Politics Nigeria reports that Pastor Eno, popularly referred to as the "Happy Hour" governor, was declared winner of the March 18 poll by the Independent National Electoral Commission (INEC).
But Udofia sought the disqualification of Pastor Eno's election on the grounds that he presented forged documents to INEC and also did not score the highest number of valid votes in the election.
Udofia also accused the governor of being convicted by an Abuja Magistrate Court, hence not qualified to be fielded for elections.
But in favour of Governor Eno, the tribunal in its unanimous decision, ruled that the allegations of substantial non-compliance with the electoral law in the conduct of the elections were not sufficiently proven by the petitioners in their case.
The Justice Adekunle Adeleye-led panel also ruled that the magistrate court, in its judgment, nullified its earlier conviction of Pastor Eno and that once a judgement is nullified, it ceases to exist.
On the issue of the qualification of the defendant, the tribunal maintained that the Supreme Court had already determined that Pastor Eno was the authentic owner of the West Africa Examination Council (WAEC) certificates he submitted to INEC.
The lead judgement read by Justice Kadi Usman Sikudu also held that the petitioners having alleged that Pastor Eno was not the owner of the certificate he submitted to the 1st Respondent, INEC, did not produce any other person, as the authentic owner of the said 1981 WAEC certificate.
The tribunal also expunged the evidence tendered by the petitioner's subpoenaed witness, an acclaimed Interpol officer, who came to tender a report on the governor's  WAEC results.
On the petitioner's allegation that the PDP made use of public office holders, such as one Uwem Ekanem as a collation agent in Ikot Abasi local government area, the tribunal ruled that Uwem Ekanem's membership of the board of Ibom Power Company, cannot be classified as political office and that a party agent's membership of a company's board was not sufficient reasons for a candidate to be disqualified.
The court ruled that Akanimo Udofia's petition lacked merit as he was not able to establish one polling unit in which there was non-compliance with the electoral law in the March 18 Governorship elections.