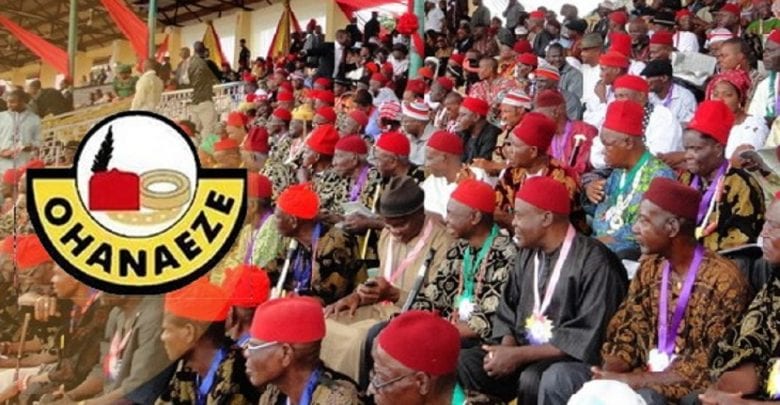 Igbo Apex group, Ohanaeze Ndigbo has issued a statement confirming the 'humiliation' of Igbos in China over the recent Coronavirus Pandemic.
The group revealed that over 2,500 Nigerians are stranded in China, calling on the Nigerian Government to intervene urgently. Below is a statement sent to POLITICS NIGERIA on Wednesday signed by the President General of Ohanaeze Ndigbo Youth Council Worldwide, Mazi Okechukwu Isiguzoro;
"Ohanaeze Ndigbo Youth Council Worldwide had authoritatively confirmed that there are over 2,500 Nigerians stranded and trapped in China amidst the Coronavirus pandemic."
"OYC confirmed through our members, that shared trending video footage of how Nigerians were being molested and persecuted in China."
"It's Confirmed that the Chinese authorities retaliated against Nigerians in China over leaked information by some African residents in Beijing, who queried why substandard personal preventive equipment are airlifted in a Cargo plane en route to West Africa from China, as those face masks are porous and infested with Coronavirus."
The group also applauded the federal government for approving to evacuate stranded Nigerians abroad.
"OYC Commended the ministry of foreign affairs and Nigeria diaspora commission for their approval to evacuate stranded Nigerians abroad"
"OYC had directed all Igbos stranded in China or any other country to report to the nearest Nigeria Embassy for evacuation. We call on President Muhammadu Buhari to subsidize the flight tickets as the World's economic adversity had affected adversely on Stranded Nigerians." the statement read.
The group also pledged to pay for 20 flight tickets to enable some stranded Nigerians especially poor students to fly back home.