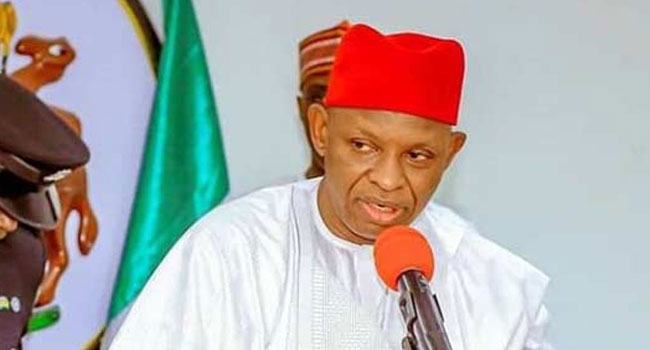 Adamu Aliyu, the Kano State Commissioner of Lands, had issued a death threat to the judges of the Governorship Election Petition Tribunal.
The commissioner also promised to unleash mayhem on residents of the state, one worse than what residents of neighbouring Kaduna and Zamfara are going through.
Politics Nigeria reported that the election of the governor of the state, Abba Yusuf, is being challenged at the tribunal by the candidate of the All Progressives Congress (APC), Nasiru Gawuna.
The tribunal is yet to fix a date to deliver its judgement on the petition.
While suggesting that judges of the tribunal may have been bribed to rule against his party, Aliyu said if the tribunal judges ruled against the New Nigeria Peoples Party (NNPP), they may pay with their lives.
Mr Aliyu made the statements while addressing members of the NNPP during a solidarity protest of the party on Thursday.
The gathering also doubled as a prayer session for an outcome favourable to the party at the election tribunal.
A video of the commissioner issuing the threat was later posted on Facebook by both NNPP and APC members.
"I am sending this message to the tribunal judges, any judge that allows himself to be used and collect bribes and pass judgement that is not right, we want to tell him he must choose between his life and the bribe money he collected," the Kano commissioner said.
"We are promising you (our supporters), we are receiving your complaints, the votes you cast on his excellency (Governor Yusuf) will not go in vain unless we lose our lives or the Kano state will fall.
"Another message for the leaders. You have seen the conflict (banditry) in Zamfara, Kaduna, and Katsina, I swear because of this governorship seat, everyone will die. The conflict that will start in Kano will be more deadly than the ones in those states and Borno," Aliyu added.
The protests and the prayer sessions simultaneously took place at six locations – Katsina Road, Gwarzo Road, Madobi/Sharada Road, Zaria Road, Maiduguri Road, and Hadejia Road.
The event was attended by the Secretary to the Kano State Government, Baffa Bichi, a former deputy governor of the State, Hafiz Abubakar, top members of the state's executive council and special advisers and assistants to the governor.