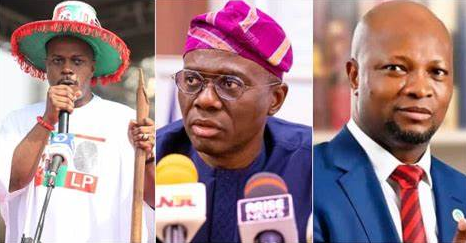 Femi Fani-Kayode, a chieftain of the ruling All Progressives Congress (APC) who is a former Minister of Aviation, has mocked supporters of the Labour Party while celebrating the imminent victory of Governor Babajide Sanwo-Olu of Lagos State.
POLITICS NIGERIA reports that early unofficial results showed that Sanwo-Olu is coasting home to victory in the 2023 election.
Reacting to the impending triumph of the APC candidate, Fani-Kayode wrote on his verified Twitter handle on Saturday night: "Those that believed that Lagos is a "no man's land" have been roundly defeated, badly humiliated and finally taught the lesson of their lives by voters today in a peaceful, free and fair election. The matter is settled and the message is 8-fold:
"1. That God answers prayers even in the most complicated situations and difficult circumstances, that He is able to deliver us from the hands of our strong enemies and the enemy within and that He rules in the affairs of men.
"2. That Lagos belongs to the Yoruba.
"3. That @jidesanwoolu remains Governor of Lagos state regardless of the threats, plotting, scheming, rantings and rumblings of envious, hate-filled, bitter, demon-possessed and satanicallly- inspired men.
"4. That guests and aliens that reside in Lagos must know their place and NEVER claim the state as their own again.
"5. That the liberal open door policy to guests and aliens must be reviewed and reforms and laws put in place to protect and secure the culture, identity and rights of the Yoruba in Lagos and to confirm and re-affirm the indisputable and incontrovertible fact that Lagos is not only part and parcel of the SW but also belongs to the Yoruba.
"6. That motor park touts and sewer rats like Jandor and those that wish to sell their heritage and race down the river and join forces with those that claim Lagos is "no man's land" like Gbadebo have no place in the politics of Yoruba land.
"7. That the fraternal alliance and strong political bridge that has been built between the people of the SW and the people of the North must NEVER again be broken and must be preserved and protected until the end of time.
"8. That patience, good planning and a firm and strong resolve to do what is right, to maintain the peace, to honor God, to challenge and defy satan and to stand up for the truth always wins the day. These are the messages that have been sent and lessons that have been learnt over the last few days and weeks as regards events and the elections in Lagos state and we shall never forget them.
"Never again will ANYONE say that Lagos is a no man's land. Eko Akete, Ilu Ogbon! Eko O gba gbere rara o! To God alone be the glory!"