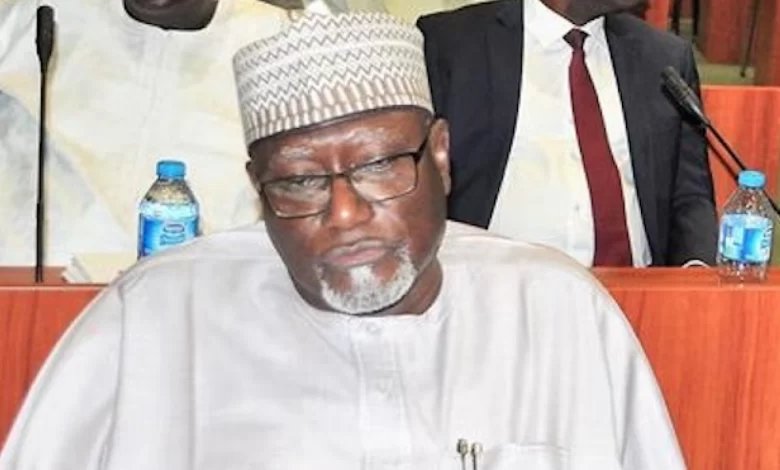 Every discerning and knowledgeable mind that read the piece "The Real Lawal Musa Daura: A response to Salihu Usman" written by one inconspicuous Hamisu Aliyu laughed. That good-for-nothing stunt designed to make Daura look good before the public is quite antithetical to his entire obnoxious and irritable personality. Aliyu does not deserve a response. But since he threw caution to the dogs and decided to jump into the ring, then he needs to be served with debilitating knocks. He wasted the readers' precious time trying to clean up a man known to everyone that has come across him as an arrogant proud bully.
Does Aliyu's Daura fear Allah? Does he have conscience? Does he still remember the popular saying of the late sage, Uthman DanFodio that the "conscience is an open wound and only the truth can heal it"? Well, Daura has never been associated with good conscience and the truth. For him, all is fair that serves his purpose. He is Mr know-all, even when it is against Islamic belief to want to know all or present yourself as all-knowing. You cannot claim to know everything. No one does except Daura, Aliyu's master.
One is surprised that Aliyu came out to defend Daura, a highly morally bankrupt person. He is indefensible and unmarketable. It is either that Aliyu is a cash and carry PR merchant or he is shameless like his principal. It is more unfortunate that Aliyu did not address the issues I had raised in my earlier writing, LAWAL DAURA AND HIS MANY CONTROVERSIES. Instead, he decided to play to the gallery as well as stand logic and common sense on their heads.
In saying that Daura is not a superhuman with powers to decide for government or change things at the DSS, he tried in vain to present him as the nicest person in town. I have not met any DSS personnel, retired or serving, that had said any single good thing about Daura. All they remember him for is how he bullied everyone. How he would keep his senior directors standing and not allowing them a seat. How he was queried in Sokoto State as the overseeing Director for embezzling Local Government funds meant for his staff. How, when he was eventually appointed the DGSS, he mercilessly descended on Col Kayode Are who, as DG, had queried him for embezzlement and official misconduct. He threw Are out of his accommodation. There was no respect for his office as former DG and predecessor. Yet no one has gone for Daura's head despite all he did and still doing. Justice delayed they say is never justice denied. Someday, he would stand in judgement either before God or Man.
How do you talk about Daura and not remember that as DG of SSS, he coveted the agency's prime properties. He allocated some to himself and cronies. Who owns 50 Lake Chad Crescent, Maitama, Abuja? Hasn't he refused to let go of the place? Aliyu may not have heard that as at the day Daura was sacked, over 350 files were found stuck away under his table. They were files for urgent office matters, staff welfare including requests for leave, accommodation, courses and sundry matters. But they were abandoned. He ignored the files. It took the dedication and sacrifice of Mr Seiyefa who took over from him to salvage the situation. What is Hamisu Aliyu talking about? Why support evil?
Aliyu wrote that Daura "does not assert any influence on government actions and policies" and has "kept within his limits" since he was relieved of his post. Really? Will Daura swear that he and some of his shadow and ineffectual groups didn't make an attempt to skew the APC presidential primary election? Will Daura swear he never made desperate but futile efforts to always meet the President even without initial clearance and authorisation? Will he swear that he never set up parallel intelligence processing office with which he tried to use to hoodwink vulnerable politicians? Daura, where is thy shame? Hankali fa!
Aliyu said Daura is modest and not extravagant. Oh my! Laughter wan kill me. Daura, modest? In what? Daura, not extravagant? Waoo! He was even described as an astuteman, consumate, patriotic, loyal and willing to serve in any capacity he is called upon. No wonder he has been scavenging for positions; NSA, Minister of Defence or a recall to the DG post. Daura is not what he has been described. Everyone knows he is arrogant, self-serving, disloyal and morally bankrupt and that he is a serial betrayer. His records are there. Fact is that Daura is too self opinionated. He cannot see himself but from others. No one can blame him. He is a man that is constantly on an egotrip. Endlessly so.
This is the only rationale for Aliyu to have written that the present DSS leadership is incompetent, administratively inadequate; has inferiority complex and feels jittery and inadequate. How? Nonsense. Absolute bunkum. Daura and his ilk are maniacs. He is rather the one with apparent disorders particularly that of infantile disorder. How do you explain or describe his primitive acquisition tendencies or superiority complex? Shameful. He is sure the incompetent one going by his antecedents and stay in the helm of affairs as DG. What did he accomplish? Harassment of staff? Embarrassment to the Organisation? Compromise of Service operations? What the present leadership achieved in 6 months surpassed his 3 years stay. It is empirical and verifiable. Doesn't he ask his numerous spies for a feedback? About the success stories? The joy and excitement of the personnel? The freedom that pervades the work environment? Has he seen the compendium of achievements and impactful projects recently published to celebrate the leadership? I stumbled on it. I have engaged many retirees and their expressions, based on the attention they have constantly received from the Service, are touching. This is opposite of Daura's reign of terror, abuse, intimidation, aggression, aggradisement and harassment. Daura ran the DSS on gossip. He was sure promoted above his competence. So, he can assume anything today. We know him better.
One can understand Daura's perchance for a feeling of superiority. He is short and very temperamental. It is characteristic of men his size. They are always trying to make a point. They easily feel threatened. To Daura, everyone is an enemy to be crushed. This is his approach. Maybe, Aliyu hasn't heard also that Daura went into fights with his officers and aides. Those he couldn't cow, he dismissed. Can Aliyu go and find out who Abba Kaka and Abdulhawab Raimi were? They were former DSS staff who Daura appointed as his personal aides. They are alive and can be approached by Aliyu to confirm to him their experience in the hands of Daura. Abbakakar was smart to have outplayed him; a reason he hasn't forgiven him.
Daura claims to be intelligent and smart. Yes, he is negatively smart and intelligent. He knows how to arrogate powers. He is manipulative and knows how to undermine others or use his position to extort. He is smart and yet was swindled by persons who posed as property sellers but were foreign intelligence agents. The story of the controversial botched property purchase in Turkey is still fresh. Daura is intelligent and yet made 3rd class from the Ahmadu Bello University (ABU), Zaria. Those he is daily castigating did better. Those are all rounders who went round critical departments in the same Agency his circulation was so limited till providence smiled on him with the DG post that did not last. He claims to be a Goliath. But those he intends to suppress or thinks he can suppress are the Davids. He claims to be fat. But he should know, like Julius Caesar notes, that thin men are dangerous. As a fat man, it is obvious that Daura is tempted by the minor perquisites of power which thin men are not.
Hamisu Aliyu expressed satisfaction that among conjectures why Daura was removed from Office, "none touched on his integrity, capacity and professionalism". This is story for the monkeys. Aliyu is very ignorant. With all that have been said, will Aliyu still maintain that Daura is a man of intergrity and professionalism? Does he in good conscience deserve to be rated so? Where lies the capacity? Daura's leadership qualities are questionable. He is narcissistic, dictatorial and power drunk. I still wonder how Daura is or should be seen as a man of integrity as Aliyu wants us to believe. Integrity, transparency, accountability and due process are not words with which Daura can be described or associated. Probably for whatever unknown reason(s), a man like Daura should be somewhere, but definitely not among lawful people, cooling off.
I pity Hamisu Aliyu for taking up the job of a publicist or image maker for Daura who is a bad, if not rotten product to sell. It is regrettable that Aliyu believes I am parroting and lack capacity to process and thus unintelligent. It is an overkill or outright waste of time to expend energy to say that Aliyu and his master are the unintelligent. And how they are so, have been graphically illustrated. Need I to say more? No! Needless. Daura should bury his face in shame. Sane people are trying to fix the destruction he caused at the great Organisation he was called to handle. Funny enough, he wants to be called upon again to come and wreak havoc on an unlucky agency and its personnel. He is a scanvenger. No one wishes that. Not in the annals of history should that be recorded again. Daura knows he is far spent. He may think otherwise. However and whatever he feels, LET HIM GO TELL THAT TO THE LEBANESE, THE SARAKIS, ARES AND THE EMEFIELES.