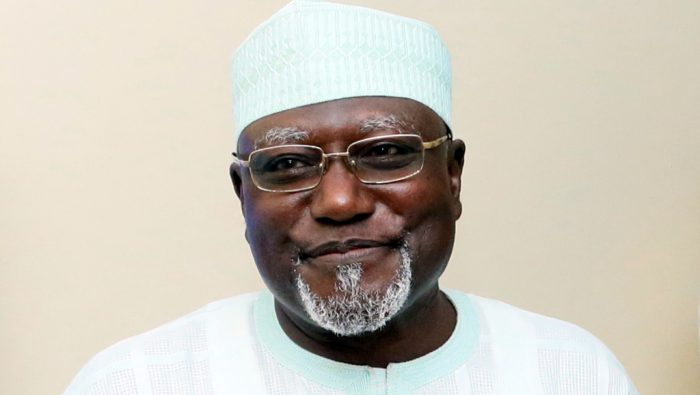 Many TV stations on 7th August 2018 had a disturbing news on their scroll bars: the acting President, Yemi Osinbajo, had terminated the appointment of the Director General of the Department of State Services. Tongues wagged but what started as fake news got confirmed. Daura had been sacked. Not just that. He was arrested by the police and detained for further investigation.
At the instance of Osinbajo, Daura was invited to explain the circumstances surrounding the siege on the National Assembly by hooded men, alleged to be DSS operatives who under Daura's command stormed the place to disrupt congressional duties when Bukola Saraki was the Senate President. It was widely reported that Daura looked down on Osinbajo and told him off insisting he acted within his powers and could only make explanations to or take instructions from the President and Commander-in-Chief who appointed him. Daura did not see Osinbajo as that Commander that should be respected even though President Buhari had transfered power to him before proceeding to a 10day leave. Daura did not recognise Osinbajo as the President, acting or not.
That was vantage arrogant Daura. He has no respect for anyone. Humility is a scarce commodity in his world. As DG of DSS, stories abound of how he was arriving late to Service Chiefs' meetings and in some occasions demanded salute from uniformed officers. He shouted everyone down. He bullied everyone. And some of the chiefs became subservient to him. He flaunted Katsina origins and acclaimed closeness to the President. He divided the Presidency and tried to cow everyone including Abba Kyari, then Chief of Staff. The man resisted him. He took sides with Mamman Daura. He was at loggerheads with NSA Babagana Monguno.
Upon the removal of Daura as DG, he thought it was a matter of time before he would be returned to status quo. He boasted to his fellow ignorant cheerleaders that President Buhari would reverse his sack. Days went into months and no such action took place. Hopeful as he was, he told his unsuspecting supporters that he would be made NSA. That did not happen. The 2019 general elections were fast approaching. Daura decided to adopt fear scare as a strategy to persuade some persons in the Villa believe that without him in a lead role for the elections especially that of the Presidency, Buhari would lose. There was a desperation to find him such role. He wanted a return to the DSS; or appointed as NSA or Minister of Defence. He didn't mind the damage to the image of the man he claimed he loved. He did not care about the public outcry against his return in any form. All he wanted was a position.
When it was obvious to him and his pushers that none of such positions would come his way, he created a self-serving office: an active Office of Former DG of SSS with full convoy and other paraphernalia. He held courts. All roads led to him. Politicians were falling over themselves to get his attention. Rumours went about town of his activities and supposed influence. He would go to see the President without prior notice till such unscheduled visits boomeranged in Katsina when the President expressed his displeasure. He was cut to size and he stopped.
The 2019 election came and passed. Buhari won and obviously without Daura. APC won Kano, Kogi, Kwara and places Daura had created impression the party won't win if he was not in a position of authority. Till date, it is believed that Daura has several spies planted in and around key government offices and officials. Reason is just to know what's cooking so he can use the information for his manipulative interests. It is also discussed in circles that the man had several things up his sleeves. He planned that the President perpetuated himself in power. He felt he had the magic wand to achieve that. He planned to install a president from among his circle if the first option was unachievable. Out of office, it became a tall order to accomplish any of those.
Then he started to operate as a security consultant. Consultant to who? Vulnerable and unsuspecting politicians who do not know how government works.He fleeced most. They parted with their hard earned savings. Just to satisfy the greed of a man. During the APC convention and party primaries, Daura played an ignoble role. He stuck with a group that wanted a particular person to win. They did all they could but Tinubu pulled the rug off their feet. Funny! The Consultant failed.
In the current Emefiele issue, Daura has assumed another role of a consultant. He is chief advisor to the CBN Governor. This time, he is not alone. They are three. Lawal Musa Daura. Boss Mustapha, the SGF. Abubakar Malami, the AGF. The trio are Emefiele's shadow advisers and hard-line supporters. They are the power behind him. The reason is not far fetched. Malami would have been Emefiele's deputy in the Governor's ill-fated presidential aspiration. The plan was botched. The so called Kazaure Committee was killed by the SGF who has today abandoned his office for globetrotting and trading in gold. Mustapha is hardly around. He is either in London, other parts of the world or a certain country in West Africa from where his gold trade thrives. In all, one thing binds Emefiele and his masters: unquenchable quest and access to the foreign exchange. With Emefiele in the CBN saddle, the access is unstoppable. It is a goldmine for anyone that supports Emefiele. Emefiele is not an ordinary Nigerian. He holds key to the national vault. He can give any amount in settlement. Daura likes money and can do anything for it. It is not surprising that he is at the forefront of Emefiele protection ring. So much money must have exchanged hands.
The quartet of Daura, Mustapha, Malami and Emefiele should know that Nigeria is bigger than them. Their interest should not surpass national interest. If Daura could be sacked and questioned; an SGF, Babachir Lawal sacked for a replacement with Mustapha; Governor Lamido removed for Emefiele, why on earth shouldn't Emefiele be touched, at least questioned by appropriate authorities. The State is far beyond any single individual. Well, at the fullness of time, water will find its natural line. Till then, let those with false sense of power hold to it.
Daura is Mr Controversy. He likes to swim in troubled waters or even against the tide. He likes it when he is at the centre of everything. He likes to call the shots. He likes being the boss. He likes it when people see him and run. He likes to be feared. You are a weakling when you're not like him. In the DSS where he held sway for slightly above three years, it was a reign of terror. As a dictator, he clamped on the rights of personnel. Files for leave, assistance and other urgent administrative and welfare matters stayed endlessly on his table. He never respected retired and serving senior directors many of whom he chased out of their official quarters and reallocated to his retinue of concubines, children and wives. He forcefully retired a good number on false and flimsy charges simply because he wanted to be seen as tough and hard.
Very canterkerous. Highly bullish, Daura was never teamspirited. Has anyone wondered why, according to sources, he never worked at the Headquarters of the DSS prior to his appointment as DG which he eventually got on tribal basis; Katsina-Mamman Daura connection. Gossip even had it that he did not pass some of his promotion exams notably that of his Grade 13 to 14. No one would have considered Daura a DG due to his antecedents. His antidemocratic, antihuman rights, suppressive and oppressive records are public and legendary.
Daura never loved President Buhari, Nigeria and the SSS. He loves himself, pocket and family. He is only interested in things that advance the aforementioned. He even had strong political interest; a reason one of his wives contested a House of Reps seat but lost. Daura can destroy the system just that he achieves his goals. He should be called to order. His tendency to wreak havoc on the system should not be continually ignored. There are many former Directors General of the DSS. They have carried themselves in very commendable pro- establishment manners. Daura shouldn't be an exception. The earlier he reins in himself or he is made to do so, the better. Otherwise, we would wake up one day and hear that Daura has foisted a person or regime on us. Afterall, he is not a lover of democracy and can do anything to frustrate it. God forbid! His quest for power is insatiable. This is what drives his controversies. Enough of that.
Salihu Usman, a public affairs commentator contributed this piece from Kaduna State