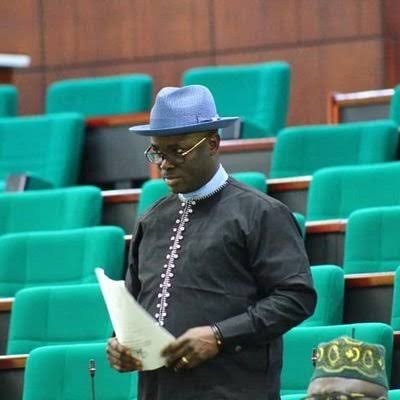 A member of the house of representatives, Rolland Igbakpa, has proposed a bill prohibiting the stigmatisation of persons who are victims of insurgency and militancy.
POLITICS NIGERIA gathered that Mr Rolland presented the bill on Wednesday at the green chamber.
In the bill titled: "A BILL FOR AN ACT TO MAKE PROVISION FOR THE PROHIBITION OF STIGMATIZATION OF PERSONS WHO ARE VICTIMS OF INSURGENCY OR MILITANCY FROM INTEGRATION WITH THE COMMUNITY AND TO PROVIDE FOR THE PROSECUTION AND PUNISHMENT OF ANY PERSON OR GROUP OF PERSONS WHO STIGMATISES SUCH VICTIMS", Mr Rollands opined that stigmatisation against victims of insurgency and militancy should now qualify as an offence with prescribed terms of imprisonment.
However, in a document obtained by this paper, the lawmaker representing Rivers state detailed the reasons for the bill.
According to him, instead of getting embraced and fully integrated back to society, the victims further get estranged from same.
"Some people would go to the extent of calling victims derogatory names. The children of victims are not left out too, as they equally suffer name calling and shaming even at school, for what is no fault of theirs."
"Victims even suffer exclusion from social places like churches, meetings, as well as avoidance at public functions and gatherings. Victims soon become topic of small talk in town and looked upon as less human."
"They are usually discriminated against on account only of being victims of insurgency or militancy as the case maybe. Whilst some of them suffer in silence, a few of them attempt to fight it off."
Insurgency in Nigeria
The Boko Haram insurgency began in 2009, when the jihadist group Boko Haram started an armed rebellion against the government of Nigeria.
The sect's attacks have been launched in many communities situated in the Northeastern parts of Nigeria.
According to the lawmaker, about 1.7 million people displaced in Borno state alone. The IDPs are only meant to provide makeshift and temporary accommodation for victims of insurgency.
The insurgency has displaced nearly 2.4 people in northeast Nigeria. Children orphaned by Boko Haram alone, stands at about 60,000, Mr Rollands stated.