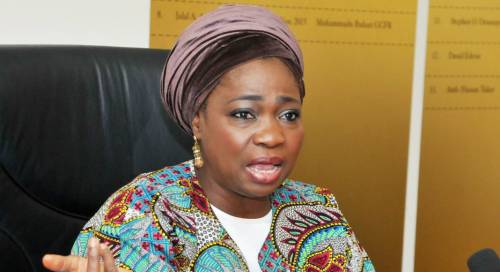 A Lagos based lawyer, Ademola Owolabi, has urged the Chairperson of the Nigerians in Diaspora Commission (NIDCOM), Abike Dabiri-Erewa, to stop dragging womenfolk into pure issues of acceptable chaos between her and the Minister of Communication, Isa Pantami.
This newspaper reports that Mrs Erewa has said in a video that the agency no longer has an office from which to operate following the forceful eviction by Mr Pantami.
POLITICS NIGERIA also reports that the Nigerian Communications Commission (NCC) also said that the claim by NIDCOM was false. It said that the commission was not sent packing.
But speaking exclusively with POLITICS NIGERIA on Tuesday, Mr Owolabi wondered why the Federal Ministry of Foreign Affairs has no department dedicated to diaspora affairs.
He said: "The Foreign Affairs Ministry is well more than capable to handle its duplicitous functions. I will say nothing of the chaotic nature of this government where a Commission will be left on a grueling search for an office complex to function. It shows inefficiency, irresponsibility, and a government that is more known for absent-minded chaos.
"So, Mrs Dabiri-Erewa should stop dragging womenfolk into a pure issue of acceptable chaos. What we have here is the unbridled quest by certain people to remain in government at whatever cost.
"A letter written to the President was not attended to since February 2020! Huge joke. This letter was not written by citizen Adamu or Citizen Chima or Citizen Adewale. It is a letter from the Executive Secretary of the Nigerian Diaspora Commission. If such a letter could be treated with such levity, what is the fate of ordinary Nigerians"